NAB 2016: The Optical Devices Division of Fujifilm North America is debuting the Fujinon UA13x4.5 wide angle 4k/UHD lens at NAB this week.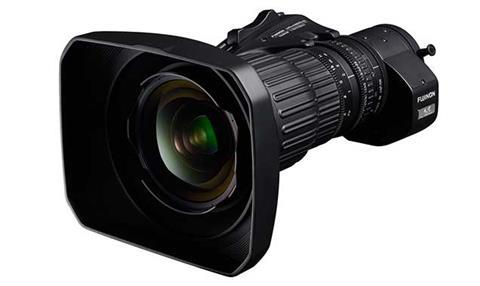 The UA13 is designed for use with 2/3-inch 4k ENG cameras and camcorders.
"The UA13's superb wide angle capabilities are a result of our latest optical simulation software, which was used to model the UA13's large diameter aspherical elements," said Thom Calabro, director of marketing and product development for the Optical Division of Fujifilm.
"The lens has a multi-group zoom system that suppresses image distortion and ensures that 4k UHD images remain consistent and accurate from centre to corner, no matter how tight or wide the shot is."
Fujifilm treats the aspherical elements of the UA13 with High Transmittance Electron Beam Coating (HT-EBC). This helps to reduce ghosting and lens flares, while increasing the amount of light transmitted through the lens to the camera's sensors.
The UA13's Servo Drive Unit supports various remotely controlled zoom, focus, and iris functions using either RS-232 serial data or traditional analogue communications.
Also being launched at NAB are two 4k zoom box lenses, the UA80x9 1.2 EXT and the UA107x8.4.
[Stand]
C7125