Our drone proved invaluable in capturing the aftermath of stabbings, a murder, fires and accidents, says Matt Richards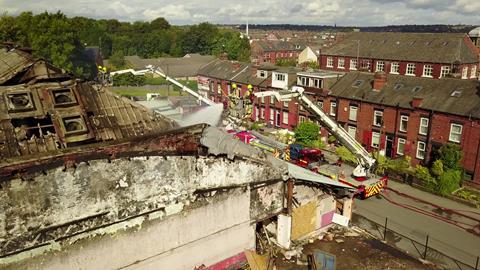 The teenager has fallen 30ft down the chimney of a derelict school and is lying badly injured in the basement boiler room behind a boarded-up door.
His survival depends on HART, perhaps the last emergency service team in the UK not to have starred in their own television series. Until now, that is, as we're doing our best to correct this oversight for 999 Rescue Squad.
This is just another day in the extraordinary working life of the Yorkshire Ambulance Service HART (it stands for Hazardous Area Response Team) – a bunch of 42 NHS paramedics trained to brave toxic gas clouds, fires, collapsed buildings, fast-flowing water and terrorist attacks.
Production company Air Television
Commissioner Arch Dyson
Length 2 x series of 10 x 60 minutes
TX 10pm, Tuesdays from 12 February, W
Executive producers Ian Cundall, Andy Joynson (Air); Arch Dyson (UKTV)
Series producer Matt Richards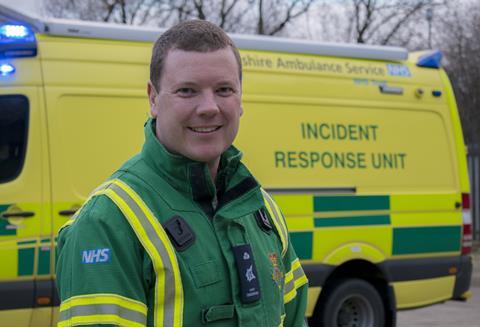 First, it's time to scale the school wall with paramedic Gemma, an athletic climbing nut with advanced medical skills and an unwavering calmness no matter what incident she is faced with.
Sony PMW300 camera still undamaged, I must follow as she squeezes through the boards into a pitch-black cellar stinking of decay and last night's underage cider party. The floor is littered with broken pipes, broken bottles and filth.
It's just me and my toplight in a rat-infested dungeon struggling to find focus and follow the drama as Gemma and colleagues begin trying to save the boy who has fractured his leg and several vertebrae in his spine. His mum turns up and it gets even more intense.
As the pre-titles say, HART tackles the most critical cases in the most dangerous places. We too have to think on our feet, juggling risk assessments, location consent and patient privacy in highly-charged situations.
As series producer at Air TV, the York-based indie now producing 50 hours of medical docs for UKTV's Originals push, I'd always wanted to shoot HART, but their work often involves specialist police operations and was always regarded as off-limits.
That changed last year when relationships we had nurtured making our Helicopter ER shows turned a no to a yes.
Winning the confidence of 42 medics working across seven shifts took time. Air's philosophy is to use a small stable team, that becomes embedded with its subjects. We move the production office into their base and spend a long time shooting – in this case a year, for 20 hour-long docs – to maximise our chances of getting the big stories.
With HART's skillset, and its base in urban Leeds, drama comes almost every day. We visit two stabbings and a murder in just one shift. Industrial accidents, sieges, shootings, fires, major RTCs and police-related incidents are regular events.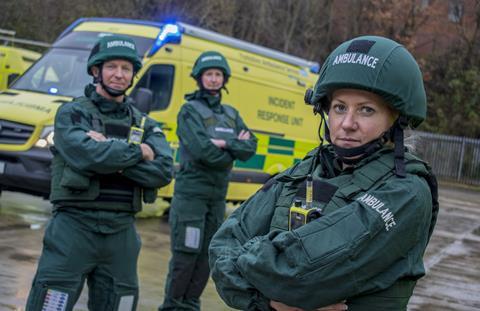 We cover two shifts a day – and that can mean up to 200 miles in vehicles on blue lights. HART can be called to incidents anywhere across 6,000 square miles. Our amazing consent team puts the hours in on the road too.
Our drone has brought a whole new angle to the shows. Whenever there is a long-running incident and the location is suitable, we launch our DJI Mavic Pro, an extremely compact and technologically advanced aerial filming platform.
As our team has previously undergone flight crew training on the air ambulances, gaining the required Civil Aviation Authority permissions was more straightforward – and the shots have added a stunning new feel to the series.
The emergency services were quick to spot our drone's potential and fire officers fighting a major waste plant blaze in Rotherham recruited us to carry out an aerial reconnaissance of the scene. A few weeks later, Leeds police officers were keen to make use of its live aerial view while trying to track down a missing criminal hiding in dense undergrowth.
We think it's the first time a TV filming drone has been used legitimately at live emergency scenes.
Kit
The PMW300 was practically indestructible – but it was just one part of our arsenal of cameras. Every paramedic wore a specially designed GoPro camera vest to capture their view of each incident and we rigged five more GoPro Hero 5 cameras in the vehicles to capture all the action on the way to each emergency.
With other specialist cameras such as the handheld steadycam OSMO+ camera, we were able to capture high quality footage in the most challenging environments.
Matt Richards is series producer of 999 Rescue Squad