Automated production used by the British Basketball League to broadcast a game live online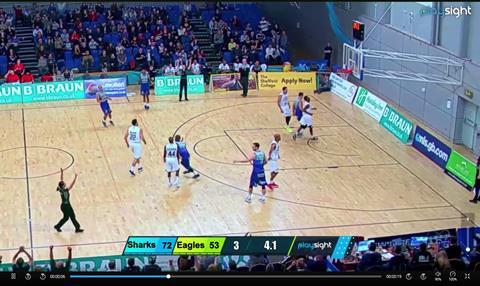 A British Basketball League game between DBL Sheffield Sharks and ESH Newcastle Eagles on Friday became the UK's first fully automated basketball live stream.
The game, which was held at the English Institute of Sport in Sheffield, was captured using the artificial intelligence (AI)-driven TV system SmartCourt from Israeli company PlaySight. It has four fixed 4K cameras that capture different angles of the court.
The main camera was fitted in the roof of the arena on the half-way line and used machine learning (ML) to follow the ball and zoom in when the ball got close to the basket.
An additional two cameras were positioned at either end of the court, with AI/ML cutting between the main tracking camera and the other camera positions.
The fourth camera captured the scoreboard and clock, with the feed overlaid on the main transmission, so the clock and score mirrored what the players and audience could see in the arena.
The British Basketball League also used a human-operated camera for presentations and interviews streamed at the beginning and end of the game.
As well as the live stream, the system also created auto replays of key moments during the game, and an automated highlight package ready an hour after the live broadcast. Social media video clips were generated during the game and posted live as the game was taking place.