NAB 2015: AJA has released new v12.2 software for its KONA and Io products, as well as a range of portable mini-converters.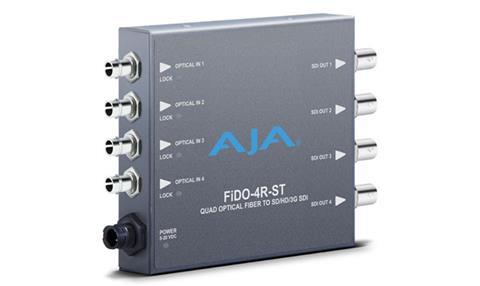 The software update includes a new capability for Io 4K that offers AJA Raw ingest to Cinema DNG files from the CION production camera, at up to 4K 60fps on Mac or Windows. KONA 4 will support AJA Raw capture from CION up to 4K 120fps on Windows.
Additionally, 4K Avid DNxHR capture using KONA 4, KONA 3G, and Io 4K has been added to AJA Control Room and Avid Media Composer version 8.4, announced this week by Avid.
AJA Control Room is a unified, cross platform ingest, playback and output software, available for free for use with the latest KONA and Io products.
For streaming clients, the v12.2 integrated driver and plug-in package includes expanded support for AJA Io Express products with Telestream's Wirecast software.
Flexibility from FiDO
The range of portable mini-converters is intended to enable more flexible digital video workflows.
FiDO-4T-ST and FiDO-4R-ST are quad-channel 3G-SDI to ST Fibre and ST Fibre to 3G-SDI mini-converters, carrying up to 4x 3G-SDI signals on a single converter. They offer the ability to send signals from a 4K/UltraHD source, such as from the CION camera, up to 10km. Alternatively, the quad-signal path also allows for multiple HD signals to be carried across long distances.
The HA5-4K unit provides a simple and powerful path from UltraHD/HD HDMI to SDI, converting the signal to 4x 3G-SDI.
It is configurable via AJA MiniConfig software for Mac and PC, offers 2-channel HDMI embedded audio support and fits easily in small spaces.
AJA is also now offering CWDM (Course Wavelength Division Multiplexing) fibre choices, allowing multiple channels of 3G-SDI to be carried on a single fibre.
The company said the advantage of CWDM is that there are nine pairs of wavelengths, so up to 18x 3G SDI signals can be muxed for transmission across one fibre cable, extending flexibility in the field for running long video signal paths. The CWDM modules plug into AJA's existing SFP cages.
AJA extends the CWDM technology into its FiDO stand-alone fibre offerings with the introduction of the FiDO-2T-CWDM.
AJA's FS1-X and FS2 Frame Synchronizers can also now accept a full complement of CWDM Dual Transmitters, configurable in existing SFP cages, as options at time of order.