Little Dot Studios co-founder was influential figure in TV's digital journey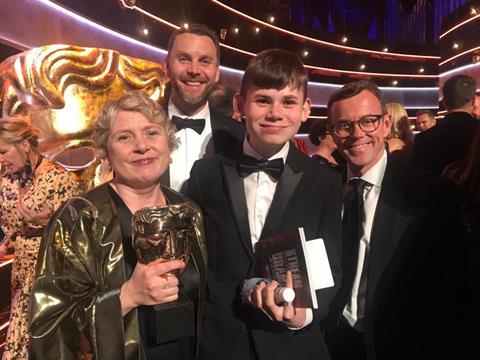 Little Dot Studios co-founder Andy Taylor has died from cancer aged 50.
A friend to Broadcast and many across the industry he will be sorely missed by those who knew him.
Intelligent, innovative and bold, the Rochdale-born, comprehensive school-educated Taylor took Little Dot from a concept hatched at his desk in All3Media headquarters in Holborn in 2013 to a Bafta-award winning digital content studio, agency and network with bases in London, Munich and Los Angeles.
Along the way he and co-founder Selma Turajlic created jobs for hundreds of people – many of them youngsters – as they grew the business to attract more than 250 partners spanning production companies, brand owners and sports right holders, though not Taylor's beloved Oldham Athletic AFC.
An architect of Channel 4's on-demand service 4oD (now All 4), former lawyer Taylor joined All3Media in 2007 as commercial and digital media director where he demonstrated his far-sighted nature by launching YouTube channels using assets from its biggest brands.
These were augmented with channels featuring original content and the two-pronged strategy provided the blueprint for Little Dot, which he launched with investment from All3Media.
Taylor, along with Turajlic, stepped back from the business earlier this month, shortly after completing the acquisition of Dan Snow's SVoD History Hit. He was succeeded by long-time deputy Dan Jones.
Respected visionary
In a joint statement, Turajlic and Jones said it was no exaggeration to call Andy a visionary.
"His foresight on how the TV, streaming and digital market would develop over the years is unquestionable - and even when many of us did question it, he was always proved right, and yet never gloated, but used those experiences to give us confidence in dreaming about what the future could bring; to think bigger, to think bolder, and to think better," they added.
"He was also one of the most respected, and the most-liked people in the media industry." 
His focus was always on others, according to the pair.
 "As a friend, he made your life richer. As a business partner - there is no other person you'd want to start a business with. As a mentor - he has inspired and influenced the lives and careers of so many. 
"We will miss him with all our hearts, but his vision, spirit and legacy will live on forever."
All3Media chief executive Jane Turton, who was responsible for backing Little Dot in 2013, said she was immensely proud to call Andy her friend.
"An awful lot of people like to call themselves entrepreneurs but Andy was the real deal," she added. 
"He had the vision, determination and brilliance to launch Little Dot Studios and make it the extraordinary success that it is today.  We will miss him enormously – the wit, the insight, the drive, the kindness and the passion – and most of all, the friendship."
Taylor had started plans to put in place a charitable foundation to support those in need, based on experiences that were close to him, with more details to be revealed shortly.