On reaching a landmark 200th edition of his satirical podcast The Bugle, Andy Zaltzman talks to Michael Rosser about its global appeal - and surviving on voluntary subscriptions.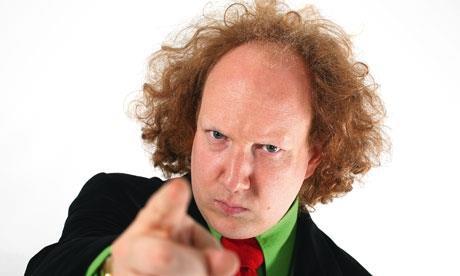 This year has been packed with historical landmarks: the Queen's Diamond Jubilee; a Brit making it to the Wimbledon men's singles final; the forthcoming Olympic Games in London.
But for comedian Andy Zaltzman, hitting the 200th edition of The Bugle - a satirical comedy podcast he records weekly with The Daily Show's John Oliver - is "clearly one of the landmark moments in the history of art and civilisation". He declares: "It is the modern equivalent of Michelangelo finishing the Sistine Chapel - but more so."
The show, which debuted in October 2007, features Zaltzman and Oliver offering their unique comedic take on global news from their respective homes in London and New York. In 2011, it drew an average of more than 2 million downloads per month.
Speaking to Broadcast at the offices of Avalon Entertainment, the prolific talent agency and indie that represents both him and Oliver, Zaltzman is quiet and doesn't waste words in conversation - almost the opposite of his broadcasting approach, in which he greets listeners with a rallying "Hello Buglers" every week and delivers quick-fire, razor-sharp satire.
But with a wry smile, a shock of red hair and deadpan delivery, nearly every sentence he utters is quite simply funny. On his co-host, who delivers his half of the show down an ISDN line, Zaltzman says: "We had performed as a double act before John jumped ship and betrayed his country, deciding it would be better to work on the world's leading satirical show rather than go to Edinburgh with me and perform in 100-seat venues. I still don't understand it - but each to their own."
The podcast, originally hosted through The Times' website, offered an opportunity for the former double act to regroup after an 18-month break.
It has found a truly global audience, with listeners in more than 145 countries. "I was outside the World Cup Cricket semi-final in Mohali, India, when a local lad ran across the street to say he listens, which is a bizarre thing to happen when you're in northern India," Zaltzman recalls.
Amid the hundreds of tweets and emails the show receives weekly, there has been correspondence from Darfur, a soldier in the Israeli army and a researcher in Antarctica. "We had an email from China expressing concern we might be blacklisted by the Chinese government," he says with an appreciative laugh.
Axe threat
Listeners feared the show would be cut short after issue 178 when The Times dropped the podcast, which Zaltz­man points out was nothing to do with their lambasting of Murdoch and the News Of The World throughout the phone-hacking scandal. "I believe it was a financial thing as they were having to make various cutbacks," he says. "They were always very supportive and never interfered, so I've no complaints about the evil empire."
But having amassed a loyal listenership, it was unlikely to disappear. A poll, which generated more than 3,000 responses, has shown that more than 80% of listeners would pay for the show. However, in a bid to retain their audience and pick up new listeners in the future, The Bugle will remain free through iTunes or new host Sound­cloud, with the option of a voluntary monthly subscription set to be introduced as well as a merchandise range ("nearly five years after our launch, on the cutting edge as ever").
Alongside stand-up gigs, Zaltzman is a regular panellist on 5Live's 7 Day Sunday and both writes and performs on Radio 4's Tonight With Rory Bremner.
As for The Bugle, Zaltzman hopes to keep it going to the 300th episode and beyond. "If enough people chip in a little every month, we can keep going until we're at least 80," he adds. "I can see John recording from a nursing home in California. I'll likely be in Skegness."
The 200th edition of The Bugle is available for download through iTunes and Soundcloud
Fact file
Born 1974
Education BA in Classics, University College, Oxford
Family Married with two children
Big break Finalist, So You Think You're Funny (1999)
TV credits include Bremner, Bird & Fortune, 8 Out Of 10 Cats (both Channel 4); Russell Howard's Good News (BBC3); John Oliver's New York Stand Up Comedy Show (Comedy Central)
Radio credits include Political Animal, Tonight With Rory Bremner, The News Quiz, The Now Show, Andy Zaltzman's History Of The Third Millennium Series 1 Of 100 (all Radio 4); Fighting Talk, 7 Day Sunday (both Radio 5Live)