NAB 2016: Vitec Videocom-owned Sachtler has sold its Artemis camera stabilisers to Arri.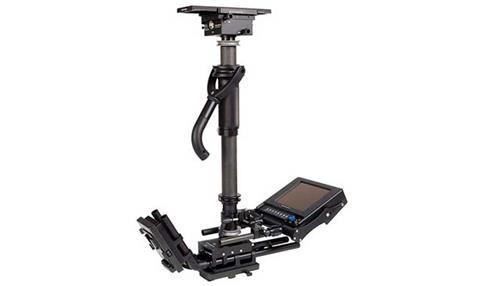 The Artemis range includes the new Trinity system, the EFP HD (pictured) and the Cine Broadcast, as well as vests, spring arms and other accessories.
Curt O. Schaller, who developed Trinity and, together with Dr Roman Foltyn of FoMA Systems, invented the Maxima gimbal that functions as the head of the system, joins Arri as product manager camera stabilisers systems.
Service technician Jörg Pitzing also moves to Arri where he will oversee support for the Artemis product range.
As a result of the deal, Arri becomes the sole global sales and service provider for all Artemis products.
No financial details were revealed.
Schaller said: "As a cameraman and inventor of the Artemis stabilisers, I feel that joining Arri is the most exciting thing that could happen to modern mobile camera support. I am sure that the hundreds of world-class Artemis owner/operators will be thrilled by the fact that ARRI is now behind them and driving the product range forward."
Alan Hollis, the senior vice president of production equipment for Vitec Videocom, added that he was "confident that all existing and future customers will enjoy the same level of service and support they received from Videocom with Artemis' new owner."
Having shown a prototype at IBC 2015, a production version of the Trinity is being shown on the Arri booth at NAB 2016.
An upgrade to Artemis or third-party classic camera stabilisers, Trinity consists of a compact and lightweight two-axis gimbal head, a monitor mount and joystick that attach to the gimbal handle, a battery hanger module and a pendulum that allows 'drop down' moves.
Initial customer shipments of Trinity are scheduled for May 2016.
Arri is also taking over sales of the Maxima as a stand-alone gimbal, along with all other system components.
[Stand]
C6537