Art of the Interview: Jon Snow recounts the day he found himself in the private jet of a sleeping Idi Amin
Uganda's self-proclaimed 'President for Life', Idi Amin Dada, was intrigued that alone among the many journalists who tried to penetrate his court, I had actually lived in Uganda.
I had been a teacher with Voluntary Service Overseas (VSO), in 1967. I had lived and taught for a year at Kamuli College on the banks of the River Nile, 50 miles north of Lake Victoria.
In those days, Amin was a self-appointed major general in the Ugandan army – a considerable leap up from colonial days when he had served as a very British sergeant major.
In the 1970's his reign of terror was both tribal and racial. His regime murdered some 300,000 Ugandan citizens, and expelled the numerous Indians and Pakistanis who had made their lives in Uganda.
I interviewed Amin upon a number of occasions, most notoriously in 1975 when the then-British Foreign Secretary Jim Callaghan was forced to fly to Uganda to save the life of a British lecturer, Dennis Hills, who faced execution for supposedly abusing the good name of Uganda's president for life.
Interviewing Amin was an experience that veered between charm and menace, and between comedy and death threats.
On this occasion, having so comprehensively humiliated so senior a figure as the British foreign secretary, Amin was up for another round. As my interview with him had been agreed, I seemed to be the only available victim left in the wake of Callaghan's departure.
Amin opened matters with an account of what he had done to assorted interviewers in the past. One had languished in jail for three and a half months.
'Your country has been very bad to me'
Inevitably he asked the first question of my interview. "I wish to have an audience with Queen Elizabeth," he volunteered. "Can you make that possible?"
"I'm not sure she does interviews, Mr President."
Then he flared at me: "Your country has been very bad to me".
"How so, Mr President?"
"They have said bad things about me."
It was all so banal. But then he flew into a rage, complaining that the British colonialists had never advanced him beyond the rank of sergeant major.
I then did something unforgivable. "Mr President," I said. "You are much admired by the ordinary people in Britain, don't throw that away." It was a statement I knew I would be able to edit out later, but I had to do something that would get this interview going.
Suddenly, his mood swung again. He talked about wanting to make a state visit to Britain. He wanted to be recognised as one of Africa's 'great leaders'. By the end of it all, we had an all but untransmissible encounter with him.
"Amin wedged himself through the aircraft door. He plonked himself into the seat next to me, with his considerable girth invading what was left of my own seat"
But reward was in the air.
He was in a hurry to get back to his hometown of Koboka in the northwest of Uganda and suggested we could continue the 'interview' on his Presidential jet as he flew home.
So, it was that my cameraman, soundman and I, found ourselves sitting on Amin's executive jet, together with two burley air stewardesses and a Swiss pilot, awaiting the President for Life himself.
Suddenly the light drained from the cabin of the plane as Amin wedged himself through the aircraft door. Worse was to follow as he plonked himself into the seat next to me, with a sizable proportion of his considerable girth invading what was left of my own seat.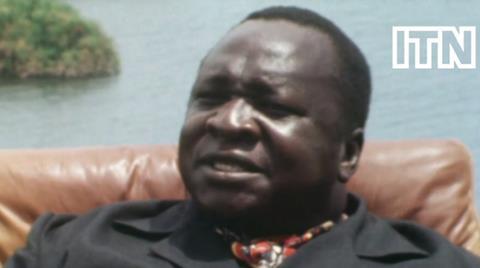 As we took off, I decided that a significant element of the bulk of the burley air hostess seemed to be made up of heavy weaponry, but this seemed to be Amin's only protection.
Early in the flight I realised that Amin had gone to sleep. Squashed next to him I began to feel the handle of his pistol pressing against my side. For a perilous moment I wondered if I should I shoot him? His holster had come undone and the pistol was hanging longingly out of the holster.
I didn't think I'd have any trouble from the Swiss pilot – surely he would want to fly on to Nairobi – for Kenya could not abide Amin. He would be perfectly safe landing with the body of the hated President of Uganda aboard.
It was the air hostesses who worried me. They might easily overpower us.
Then another thought invaded my innocent mind. What happens when you shoot a very fat man in the highly pressurised cabin of an executive jet? Does the bullet ricochet around inside Amin's great girth, or does it go straight through him, and penetrate the sacred pressurised fuselage, then to shrink me to the size of a pea, and eject me from the plane and out into oblivion?
The infernal choice
It is at such moments that the correspondent finds himself confronted by the infernal choice between reporting the story and becoming the story. If I shot the tyrant, I would perhaps be lauded for a day or two. Could a reporter of any worth remain a credible journalist once he had killed the President of Uganda – whatever his crimes? I thought possibly not.
Even then Amin was such a bizarre, dangerous and yet ridiculous figure that there was a severe risk that I would henceforth be seen as a somewhat ludicrous and dangerous figure myself, and certainly not a very dependable correspondent.
Once one had shot dead one tyrant, how many much less tyrannical figures would even ever want to speak to me?
And so it was that your correspondent and his presidential target lived on. Amin was to die a tranquil death beside a swimming pool in exile in Libya in 2003 – more than two decades after my one chance to shorten his life on Earth.
Oh, and the interview? We never did complete it