Doorstepping Boris Johnson's arch fixer and advisor after his lockdown trip to Durham had made headlines required skills I'd learned on the red carpet, and a cold flat white, says Minnie Stephenson
It's a sleepy Sunday during lockdown. A weekend shift at Channel 4 News for reporters often means waiting for "the text" from the news desk – the text asking you to doorstep [insert elusive politician's name].
It usually goes like this – said politician is involved in a scandal and refusing to be interviewed, and it's in the public interest to ask some difficult questions. Crucially, it's skeleton staffing and so it's your turn.
It's the news equivalent of being called up for National Service (in my head anyway) and so you somewhat awkwardly turn up, literally outside their house, with a dozen other media outlets and some frenemies.
This Sunday, I get the call from chief programme editor Rhodri Jones: "Hi, I think I want you to go and doorstep Dominic Cummings." With that I'm off, dressed as Lois Lane and a khaki trench coat heavily signalling 'reporter' – you know the kind. There is nothing undercover or subtle about this operation.
I head to my comfort zone, Hackney, where the people who seem most annoyed with 'De Beauvoir Dom' are perhaps his own neighbours. Some even heckle in the direction of his house as they cycle by. Boris Johnson's most senior advisor making the infamous 260-mile journey from London to Durham during lockdown when his wife had Covid symptoms is a massive story. There is huge public anger and calls for Mr Cummings to resign.
This is a few days before his Rose Garden school assembly-style press conference when it emerged he'd pit-stopped to check his eyesight at Barnard Castle. Cue a million memes on Twitter. Right now though, nobody is laughing.
The waiting game
Then the boring bit – the waiting game.
Myself and cameraman Craig Doyle are a small but perfectly-formed team. Craig is appropriately dressed in about eight fleeces and I'm absolutely freezing – should have worn my big coat. We've been waiting a while and Dominic Cummings hasn't come out yet, but we know he's at home as the overnight cameraman saw him go in. I press the emergency coffee button and Deliveroo Craig and I a couple of flat whites. Nothing is happening at the moment and we're cold.
Around 15 minutes later, the Deliveroo guy arrives as does – you guessed it – Dominic Cummings emerges. Typical! You can actually see our delivery arriving in the back of the shot; insert gritted emoji teeth. "Whose flat whites are these?" someone shouts in front of the world's press. I am mortified. More on that in a minute.
Mr Cummings is walking to his car, wafting away reporters like flies with a notebook. Armed with my socially-distant mic (aka 'the pole'), I reel off the questions after being briefed on WhatsApp by my forensic head of home news, Emily Wilson. "Is it one rule for you and another for everyone else Mr Cummings?" and, "Are you going to resign?" are the gist.
I was suffering from imposter syndrome, venturing into the political doorstep – but interviewing Sir Van Morrison and Dominic Cummings isn't dissimilar
How did I find the courage? The slightly shouty doorstep was masking some nerves actually. I got my sharp elbows (and now socially-distant elbows), from being a former red carpet reporter. But with that entertainment past came some internalised intellectual snobbery about my own abilities in the hard-hitting sphere. Did I mention I'm a woman?
In truth, despite the outward confidence and noise, I was suffering from imposter syndrome, venturing into the political doorstep – but interviewing Sir Van Morrison and Dominic Cummings isn't dissimilar.
Both weren't forthcoming interviewees and the art of getting people to talk who don't want to talk is the same. You've got to be persistent, fearless, listen and not take no for an answer. In short, have the confidence to ask the awkward questions and enough humility to shut up and listen.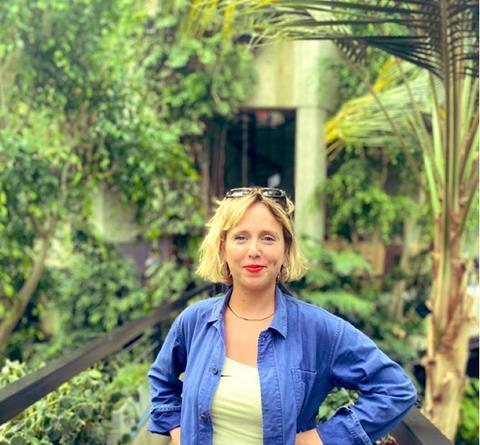 Mr Cummings didn't answer my questions that day but Craig and I enjoyed our flat whites cold.
The most surreal moment came later that week for me, when a friend who doesn't really watch the news as she "finds it a bit depressing" – I can't imagine why – messaged, the text was along the lines of "lol, they've just shown a clip of you on Have I Got News for You and Dominic Cummings is slamming a car door in your face".
Admittedly, it's a funny way to make a living.
Minnie Stephenson is a reporter for Channel 4 News