NAB 2016: Avid is to replace its Isis range of shared storage products with Nexis, a software-defined system that uses off-the-shelf hardware.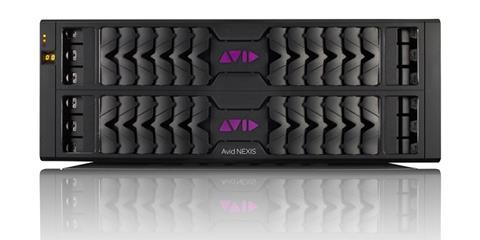 The modular platform can scale from 20TB to over 1.4PB in a single set-up.
There is a choice of storage systems, all of which use the Avid Nexis FS file system.
Nexis E4 is an enterprise level offering for medium to large post-production facilities and broadcast users, while Nexis E2 is for small-to-medium sized outfits.
Extra storage capacity in units of 20TB or 60TB with 400MB/s of bandwidth can be added to the E4 and E2 systems.
Nexis Pro is the entry level offering and is targeted at independent users and small post firms. It can be used alongside other Avid Nexis storage systems but not physically mixed with them. Priced at $13,995, it is positioned as the successor to Avid's Isis 1000.
Avid senior director of product management David Colantuoni described the use of off-the-shelf hardware for Nexis as a "very different" approach for Avid.
"In the IT industry hardware storage has been commoditised to point where the use of common, off-the-shelf components and the concept of software-defined storage is not uncommon - but it is in the media world."
The use of commodity hardware means Avid will be be able to price its shared storage offering more competitively and target a wider section of the media market, Colantuoni said.
"Having a storage platform that sits on the Media Central Platform will allow us to grow into things like cloud services…because it is not attached and defined as a storage and hardware solution and has been separated out as software solution we can use the software in future in many different ways as workflows evolve.
"This product is also the centre piece for collaboration; Adobe, Apple, Autodesk, Sony, Grass Valley, Blackmagic Design are all certified to use this product. Users don't need separate pools of storage – they can run products from all of those vendors on this platform and interact with them as they need."
Avid hasn't set an end date for the sale of its Isis range; it has a "limited" supply of product which it will continue to sell alongside Nexis, Colantuoni said.
"Nexis will work in conjunction with Isis – users will see it as a separate workspace but they can interact and it is not a completely separate system, they are all under one client."
Colantuoni added that Avid would support Isis "for years to come".