Research into this crucial issue will be illuminating for the industry
Fifty Fathoms and Pulse Films this week joined the likes of Nutopia and Wall to Wall in landing major Netflix projects, becoming the latest indies to join the lucrative and high-profile SVoD revolution.
Making a show for the sexiest content service out there is understandably a front-and-centre ambition for the cream of Britain's indie community, as articulated by The Garden's Magnus Temple.
A few years ago, Netflix felt like the preserve of a handful of the UK's best-known drama specialists. Now it has a greater appetite for original content across a range of genres, and with deep pockets and clear creative ambitions, it is pushing towards the front of the queue for ideas.
Which is why Tony Hall is right to restate a crucial creative challenge facing the BBC: how can it remain the cornerstone of Britain's creative industries and the "standard-bearer for British programming" as the market is increasingly disrupted by global giants?
Delivering a speech in Hull this week, the director general trailed a piece of research that promises to be illuminating. The BBC is going to quantify what will happen if the corporation and its traditional British rivals lose out on the best ideas and programmes to the likes of Amazon and Netflix, both in economic terms and in terms of "cultural identity and influence".
This is one of the biggest issues facing the British broadcasting sector.
"How the BBC rises to this challenge could turn out to be one of the most enduring parts of Hall's legacy as director general"
The report will be published at some point in the next few months, and its tone will be interesting. Don't expect apocalyptic scenarios or the BBC to suggest the industry is sleepwalking towards Netflixaggedon.
But the report has been conceived to shine a spotlight on the issue – and could get the industry, regulators and potentially politicians talking. For example, could other genres find themselves squeezed out in the way kids' programming has been over the past 20 years?
And what might that mean for British audiences in terms of on-screen portrayal? What happens if a UK indie wants to set a show in Birmingham, West Midlands, but Netflix wants it set in Birmingham, Alabama, to better suit a global audience?
A Little England perspective is not helpful to anyone, and it is right to marvel at the creative opportunities and vast budgets offered by the global giants of programming.
But how the BBC rises to this challenge could turn out to be one of the most enduring parts of Hall's legacy as director general.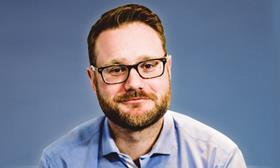 Chris Curtis is editor of Broadcast