When four doyennes of British stage and screen gather to talk about their life experiences, it's best to let the cameras roll, allowing the stories to unfold naturally, says Anthony Wall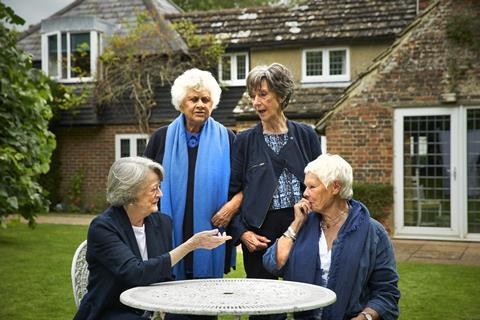 Nothing Like a Dame
Production company Field Day Productions
Commissioner Mark Bell
Length 1 x 77 minutes
TX 9pm, 2 June, BBC2
Executive producers Sally Angel; Debbie Manners; Anthony Wall; Jamie Carmichael; John Schmidt
Director Roger Michell
Producers Sally Angel; Karen Steyn
Other key people Joanna Crickmay (editor); Andrew Wright (archive producer); Tanya Rumins (assistant producer)
Post house Envy
Anthony Wall
Executive producer
It all began with a meditation class, just off the Finchley Road.
Sally Angel, an ex-BBC Arts colleague, psychotherapist and now an independent producer, found herself talking to a fellow meditator after a class. That conversation gave rise to a friendship – the other person being Tamsin Olivier, daughter of Laurence Olivier and Dame Joan Plowright.
Over the years, Tamsin invited Sally to various lunches and parties where she met her family. Joan was beginning to lose her sight and was finding it increasingly hard to act, and at the suggestion of her friend Dame Eileen Atkins, had started touring a one-woman show: a Q&A with stage director Richard DigbyDay about her life and career. She asked Sally to film it.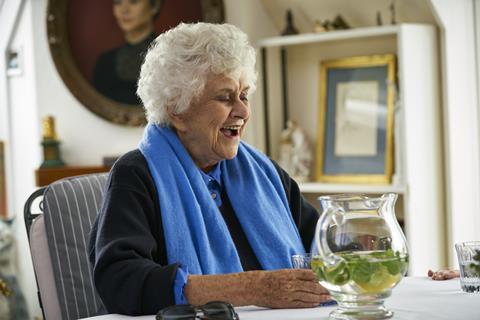 Joan showed Sally some of her scrap books, letters, photographs and cuttings. It was obvious that there was a bigger film to be made and Sally felt that Joan's hospitality and natural ease with friendship could be the clue.
Could the heart of the film simply be about her spending time with some of the other dames who came to visit, chatting about their lives? Given Joan's loss of sight, might they come to her?
Sally took the idea to BBC arts commissioning editor Mark Bell, who suggested bringing it to me at Arena. It was clearly a great idea.
Sally and I went to visit Joan; it was an enchanting encounter. She's razorsharp – really funny with wonderful anecdotes.
An account of steering her eminent husband, Laurence Olivier, somewhat the worse for wear, down an endless corridor in a gigantic Moscow hotel during their visit in the 1960s was hilarious. It was clear that her story and the way she told it was the inside track on British stage and screen, with acute insight into acting and drama itself.
She'd had a happy experience with Arena a couple of years earlier, making a key contribution to our film marking the 50th anniversary of the National Theatre. She was clear that she thought Arena would be the right home for this idea, which was an honour.
Joan was intrigued and positive, so Sally and I drafted letters to Eileen Atkins, Judi Dench and Maggie Smith.
We proposed a film that would not be just talking heads and clips, but one with an "informal structure, offering a relaxed and friendly atmosphere where memories, thoughts and insights could flow spontaneously among friends".
It would also be a testament to the extraordinary legacy of four remarkable actors, who had reached a great age and status. They all said yes.
Field Day Productions, Sally's joint venture indie with Keo Films, approached Kew Media, which felt the project had true global potential and took on the international distribution.
All of the dames are great actors, of course, but documentaries are an altogether different cup of tea. They all expressed concern about whether the world would be interested in hearing four elderly ladies talking to each other and what on earth they would talk about. Something told us this would be the least of our problems.
Nevertheless, we had to win them over. Anyone who agrees to having a film made about them has to have such a huge amount of faith in the people making it – I often wonder why anyone ever agrees to it at all.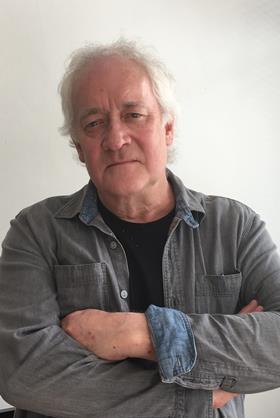 My tricks of the trade ­
Anthony Wall
Try to make sure that whoever you want to say yes never actually says no
Only work with people you like
The filming experience can be really tough. Try to make it as pleasant as possible
­In the cutting room, don't settle for the words "it doesn't work". Try it again
Also in the cutting room, remember to stop for lunch
The next challenge was who we should ask to direct these four formidable women. It needed someone with experience and success in drama, with whom the dames would feel safe and relaxed. We asked Roger Michell, the Bafta Award-winning director of My Cousin Rachel and Notting Hill.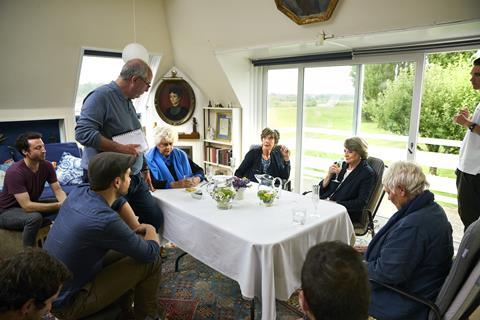 Roger felt strongly that this would be quite a different experience for the dames, with no scripts and no obvious structure. He had their trust and the idea to keep the filming loose to allow the broadest and most congenial atmosphere for the dames to express themselves naturally.
While Nothing Like A Dame has been two years in the making, the filming took place over two intense but very productive days. With the invaluable support of archive producer
Andrew Wright, Roger and editor Joanna Crickmay turned a mass of rushes from a four-camera shoot into a subtle, intimate joy.
There is so much potential for a creative project of this scale and time frame to go wrong. I can honestly say that, with the support of Mark Bell and BBC2, there was always a unity of vision.
It's a great debut for Field Day Productions, and a classic for Arena.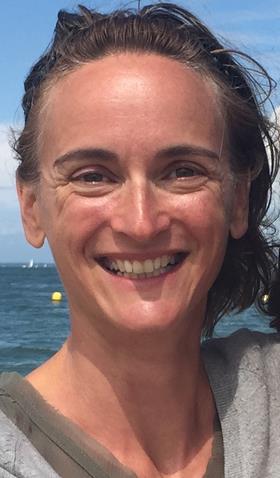 Splicing in archive without upsetting the flow
Joanna Crickmay
Editor
The great thing about working for Arena is that you never know what kind of film you are making. There are no rules, only listening to what the rushes tell you.
With Nothing Like A Dame, the rushes that director Roger Michell captured were remarkable in that this was not an interview with four celebrities, but a chat between four witty and intelligent old friends, who happen to have had long and fascinating careers.
We struggled at first to find a way to deal with their free-flowing conversation, which included many theatrical references.
My early attempts to combine archive of their performances with the interviews didn't seem to work. It frequently fell into clichés and didn't offer anything new.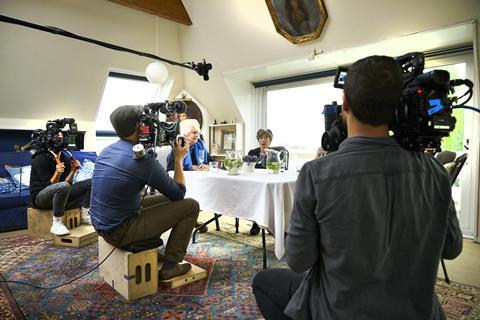 Eventually, we realised that what we needed to do was let the audience in on what actually happened during those two days of filming, and not impose a narrative or commentary of our own from the outside.
The key breakthrough came when we included traces of the film-making process itself, so nothing is hidden or pretence: the cameras, make-up and director are all present and part of it.
We were quickly convinced that the actual sequence of the filming should be maintained. There was a definite dramatic arc to what Roger had created on set and it never worked to break it.
It also became obvious that we needed to retain the hesitations and misunderstandings (which often add layers of meaning) and similarly, the conversation needed to be allowed to build and fall away.
The volume of archive available was endless but we didn't want a conventional biography for each actress. It needed to illuminate their conversation, to give a sense of then and now, and to provide a counterpoint to the chat in the room.
Fortunately for us, Anthony Wall understood what we were trying to do and allowed us the freedom to explore. We also had the support of producer Sally Angel and Field Day Productions. The end result is a doc that looks as though it hasn't been edited at all.
I hope this lets the audience feel they really are spending time with four remarkable women who, despite their fame, have experienced the same tragedies and comedies in their lives as the rest of us.