Calling time on the Doctor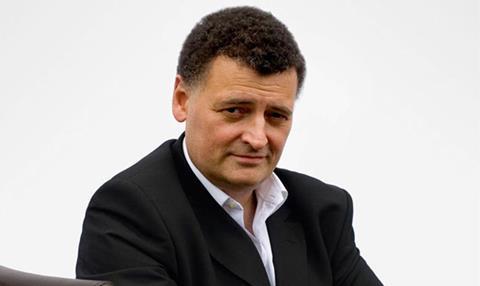 After seven eventful years at the helm of Doctor Who, head writer, executive producer and lifelong fan Steven Moffat will bid farewell to the Tardis at Christmas.
"I'm sure I'll miss it for the rest of my life," he laments, "and reminisce to very bored people about how I used to be something, I used to matter, then sob on their shoulder and get kicked out the pub."
When Moffat inherited the showrunner mantle from Russell T Davies in 2010, he was best known as the creator of ITV's much-loved children's comedy-drama Press Gang (1989- 1993) and the popular BBC2 sitcom Coupling (2000-2004).
To Doctor Who fans, however, he was regarded as one of the most ingenious writers in the show's long history and the natural inheritor of Davies' crown.
Since then, he has introduced two Doctors, played by Matt Smith and Peter Capaldi, overseen the media-spanning 50th anniversary celebrations in 2013, and played a key role in raising the programme's profile internationally.
During that time, he also managed to co-create another global hit for the BBC, Sherlock, which is produced by Hartswood Films, the indie run by Sue and Beryl Vertue, his wife and mother-in-law respectively.
As he puts the finishing touches to his sixth and final season of Doctor Who, which is due to begin this Easter, how does one of UK television's busiest creatives feel as he steps back from such an all-consuming workload?
"I'm sure it'll take a moment to adjust, because it's been the centre of my life for quite a few years," he says. "It's such an intensive job, you really can't imagine a single day without it – because there isn't one. I only have Christmas Day off and they put the bloody show on that day as well."
He feels he discovered most of what he knows about making television from his time on Doctor Who. "I learned at least 80%, which means I only had 20% of knowledge before I started," he says.
"Once you've learned how to make Doctor Who, I'm not sure there's anything left to learn. It's so difficult and monstrously complicated, everything else seems quite easy. You don't know what's hard until you try to make Doctor Who on the daft little budget we do it for."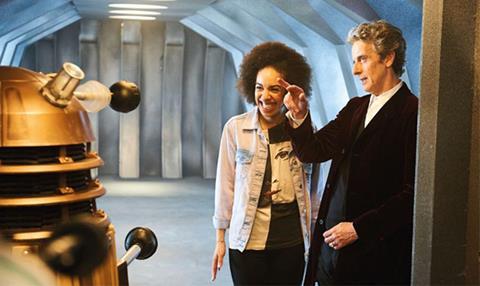 It was recently announced that Moffat's replacement, writer/producer Chris Chibnall, has delayed work on the show due to his ongoing commitment to ITV's Broadchurch. The first Chibnall-helmed season won't air until autumn 2018. Fans have learned to stay patient – there was no new series at all last year.
How does he respond to suggestions that his focus on Sherlock was the cause of this dearth? "It was nothing to do with me," he protests.
"The BBC1 controller made that decision. I love that people think I have any power over that at all, and that the BBC schedules things around me. They schedule around Peter Capaldi and Benedict Cumberbatch, and plug me into the machine whenever they feel like it."
However, he concedes that the 2015 season of Doctor Who was harmed by scheduling decisions beyond his control. "It wasn't right," he says.
"We launched during the rugby and it was on too late. Now these aren't terrible mistakes because the BBC is wicked; putting it on that late was an experiment. It might have worked but, in my view, it didn't. It's critical that when Doctor Who launches, it's the television event in that area. It's tough enough making series nine a TV event, but you certainly can't do it when there's another major fixture going on."
Was it always his plan to remain in charge of Doctor Who for as long as he did?
"I intended to do three years, so I doubled that," he reveals. "For various reasons, during my third series I wasn't as happy. It was the only time doing Doctor Who where I felt it was slipping away from me a bit. I wasn't quite as in control of it as I should be. I wasn't enjoying it as much, and I wasn't as pleased with it."
"I didn't want to leave like that, so I tried to persuade Matt to do another year, but he was determined to go. And then having cast a new Doctor, I had to stay – and I wanted to because I was thoroughly enjoying working with Peter."
He admits that he nearly left at the end of Capaldi's second season: "But there really wasn't anybody else in place, so I sort of accidentally went on longer than I meant to."
When Moffat does leave at the end of 2017, Capaldi will exit alongside him. How long had Moffat been aware that this would be the 12th Doctor's final hurrah?
"It took Peter a long time to make up his mind," he says. "Chris tried to persuade him to stay. I knew it was a possibility that he'd leave because Doctors tend to do three years. I thought that he might want to opt out, rather than go through the trauma of a change in command and maybe leaving a year later anyway. But I think he came close to staying."
The end of Sherlock?
So with Doctor Who's future decided, what's in store for Sherlock? "I've been up to my eyes with Doctor Who, so I haven't really sat down and thought about Sherlock at all," says Moffat.
"The ratings were extremely good so I guess they'll ask us again, and then we'll have to see first of all if we have three films we want to make, and then if Benedict and Martin have the time, schedule and inclination.
"Every year, you're making a less exciting offer to them: do you want to do more Sherlock? Do you want to do even more Sherlock? Do you want to do even more Sherlock again? It's not like we haven't had our reward for doing that show, it's been such a phenomenon. Not doing it again would be fine. If that was it, then that would be it. None of us will starve in the street – well, I might."
If Moffat has, indeed, said his final farewell to Sherlock and Doctor Who, what does he plan to do with the vast gap in his schedule?
"I'd like to work in different directions and try different things," he says. "Banging away at Doctor Who and Sherlock, you do wonder if you've coarsened yourself. I feel I'm writing a stream of giant trumpet blasts all the time – when you get to the end of a Doctor Who finale, you have to type it standing up.
"It's all so mad and everything's so huge, there comes a time where you feel it would be quite nice to write a little scene that breaks your heart. Then again, you have to do that on Doctor Who as well. In the midst of all that colossal, ridiculous nonsense, there's always a little bit of heartbreak going on."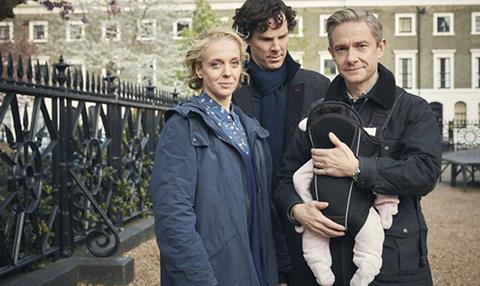 Will his own heart break when he eventually delivers his final Doctor Who script, or is he looking forward to seeing a new head writer's take on the show?
"I think the old fanboy instinct will kick in and I'll just go back to enjoying it," he says.
"Chris is a wonderful writer and I love what he does. I think he will be different. That's what will lift me out of any moments of horror that it's carrying on without me. It'll be different and it'll be exciting."
"I think there's one simple truth about Doctor Who," he says. "Doctor Who now is better than Doctor Who then, just because it's now. Doctor Who is a show of the moment. As a fanboy, I can joke about looking back all the time, but the truth is that what's special about Doctor Who is that it's still on.
"There's a modern version designed for television as it is today.I don't mean that the Doctor Who now is intrinsically better than the old Doctor Who, just that it's meant to be current."