Our BBC iPlayer film presented two huge challenges: combining comedy and tragedy, and making non-professionals look like geniuses with a snooker cue, says Barney Reisz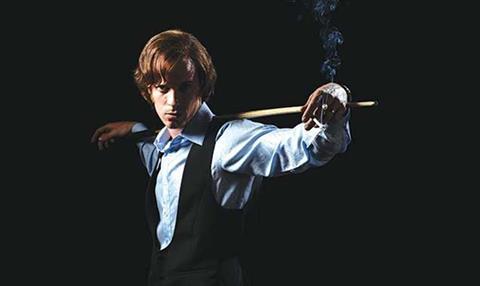 THE RACK PACK
Production company Zeppotron
Commissioners Shane Allen; Victoria Jaye
Length 1 x 90 minutes
TX 9pm, 17 January, BBC iPlayer exclusive
Executive producers Peter Holmes (Zeppotron); Shane Allen, Victoria Jaye and Gregor Sharp (BBC)
Producer Barney Reisz Director Brian Walsh
Writers Shaun Pye; Mark Chappell; Alan Connor
Visual effects supervisor Justin Hutchinson-Chatburn
Post Pinewood Post; Outpost Facilities
It was the TV event of 1985: one Sunday night, 18.5 million people stayed up until 1am to watch Dennis Taylor beat Steve Davis in the final of the World Snooker Championship.
One of those people was comedy writer Shaun Pye. Another was Peter Holmes, an executive producer and joint managing director of Zeppotron. So when Shaun approached Peter with an idea to write a script set in the glory days of snooker's golden era, he was pushing at an open door.
Peter took the idea to BBC head of comedy Shane Allen, a fellow snooker fan, and a script was commissioned. Originally conceived as a pure comedy piece, when Victoria Jaye came on board, the project became more ambitious: she suggested making it a feature-length BBC iPlayer drama exclusive, with a budget roughly akin to that of a low-budget feature film.
Golden age
Snooker in the 1980s was dominated by huge personalities. Antics on and off the table made tabloid headlines and men who were good at knocking balls into pockets became household names. With such a rich and vast history to draw upon, each new draft of the script was searching for the true heart of the film and the key characters and events that would shape our story.
The players we could never escape were the late Alex Higgins and Steve Davis. Opposites in almost every way, it soon became clear that their rivalry would be the core of our story. To understand Davis, you have to know his manager, Barry Hearn. And for Higgins, a man as famous for his turbulent private life as much as his genius with a snooker cue, it was crucial that we explored his relationship with his wife, Lynn, as well as his good friend and fellow professional Jimmy White. Redrafting continued right up to filming, but we had found the story that we wanted to tell.
At its heart, this is a film about their rivalry, so we chose key matches in their careers, which highlighted their successes and failures along the way, including several in which they squared off against each other. (The real Steve Davis, Jimmy White and Terry Griffiths were very co-operative about the project.)
Armed with this framework, we set about tackling two huge challenges. Although this was an ensemble piece, the tortured genius Alex 'Hurricane' Higgins was a huge character. The first challenge was how to marry the comic and nostalgic aspects of the period with the Shakespearean tragedy of Higgins's life, so that the audience could both laugh and be moved emotionally.
Of course, it is all down to casting. Luke Treadaway is a fine dramatic actor, who took on Higgins with a feverish enthusiasm. Alongside Luke, we cast Kevin Bishop (Hearn) and Will Merrick (Davis), both from more of a comic background. But to get the balance right, we asked Luke to be funnier than he is used to being and Will and Kevin to play more serious.
While the writers and Peter Holmes were from a comedy background, director Brian Welsh and I came from drama. By combining the two disciplines, we feel we have found some golden middle ground.
The second big challenge was how to film the snooker so that it looked authentic. South Wales offered us authentic period snooker halls in abundance, many of them unchanged since the early 1980s. Swansea houses an old Ford factory where Da Vinci's Demons had just been made, so the expertise was there to build our Crucible Theatre and other smaller sets.
Brian felt strongly that we should create match sequences using our actors, rather than use archive footage. Cutting to our cast before and after the real players took the shots would detract from the drama and tension of the games. But our actors are clearly not snooker professionals and there was no way we could teach them to play the game to any sort of standard in our limited prep period. There are only so many cutaways of actors' eyes and balls going into pockets an audience can take before they feel they are being cheated.
We approached VFX supervisor Justin Hutchinson-Chatburn, with whom I had worked on Black Mirror, to see if he could find a way of making it look like our actors were actually pulling off tricky shots. We did give them lessons, but more about how to stand at the table, how to hold the cue and strike the balls. We did shot close-up cutaways with a professional player, but the real money shots would have to be visual effects.
It's been a challenge and an honour to make the first ever scripted feature film exclusively for BBC iPlayer. We can but dream that 18.5 million people will watch it on a tablet in the bath.
THE RACK PACK: RECREATING THE ACTION
Justin Hutchinson-Chatburn
Visual effects supervisor
We began with the creative question: how could we make snooker a more intimate and exciting experience than the coverage we often see on TV?
With this in mind, we came up with the centrepiece of the film: Alex Higgins' historic break of 69 against Jimmy White during the 1982 Embassy World Snooker Championships in Sheffield, which we used VFX to recreate (although hopefully the audience won't notice).
It's a key moment in the film, observing the game at close range without a pause as we follow the 'Hurricane' around the table. It's an exciting sequence, and was initially seen as something we would piece together in parts. But it became instead an incredibly bold and challenging 'one shot'.
Our staging of the 69 break began in a small studio in west London, where director Brian Welsh and I took a small DSLR and waltzed around a full-size snooker table trying to find the best angles for each pot and the overall rhythm of the piece.
This investigation gave us a loose blueprint not only this particular scene, but for many others throughout the film.
From the test footage, we figured out how to shoot the action without snooker balls, and just how much of a headache we could create for the VFX team. Using the test footage, and referencing genuine archive material from the original game, allowed us to refine the entire sequence. We then pre-visualised it in 3D, providing the actor with his choreography, the camera crew with their positions and the VFX artists with their animation cues.
On the day, the snooker table was completely absent of balls and instead covered in tracking markers. Although we'd shot many other VFX pots earlier on, this was always going to be a big challenge. But ultimately, it proved a testament to team work, skill and creative direction.
Barney Reisz: My tricks of the trade
If a director ever says he/she will pay for an hour's overtime out of their own money to get an 'essential' shot, make sure you get the money up front – in cash.

Never say "no" to a good director. "Let's look at our options" is likely to get a better result.

If a writer tells you that a particular line you'd like to cut is possibly the most important line in the whole script, don't fret. By the time you get to the cutting room, he/she will be busy writing another show and you can take it out.