Finding a way to show the complete picture of the Irish artist's extraordinary life was crucial to our doc, says Nick Willing
Production company Kismet Film Company
Commissioner Mark Bell (BBC)
Length 1 x 82 minutes
TX 9pm, Saturday, 6 April, BBC2
Executive producers Liz Hartford; Mark Bell
Director Nick Willing
Producer Michele Camarda
Cinematographer Juvenal de Figueiroa
Post-house Molinare
The challenge was to make a documentary about a painter that had the energy, wit, excitement and surprise of the world it explored rather than the overly didactic tone of so many arts programmes.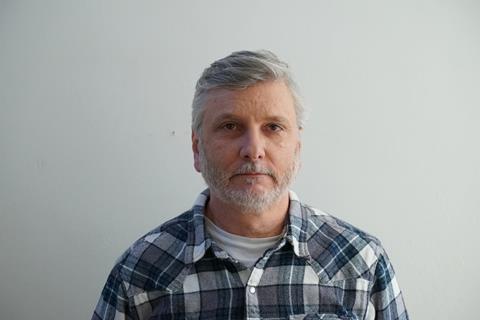 The life lived by the artist was as important to us as the art made because we'd learnt that one helps us understand the other.
We chose Sean Scully, partly because he has an amazing life story, growing up penniless and destitute until he transformed himself into one of the wealthiest painters alive, worth hundreds of millions with giant studios all over the world.
But we also chose him because he's an extraordinary character with explosive attitudes about the art world.
So, rather than featuring an expert presenter who holds the audience's hand through complicated art historical moments, we chose to tell the story through Scully's eyes whenever possible.
However, when we saw that he wasn't always the most impartial narrator, we tried to find others to add to his story. We found those who knew him well, who could give us personal insights rather than stuffy art historians who had studied his work.
We were lucky. In Mark Bell, we had a commissioner who pushed us to be different. Whenever we showed signs of veering towards a more conventional approach, he challenged us to try something new. He had commissioned my last documentary, Paula Rego, Secrets & Stories, which had won the Grierson for Best Arts Documentary and the RTS Award for Best Arts Programme, so there was a lot of mutual trust.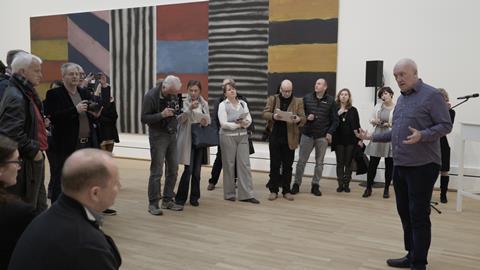 We followed the unstoppable 73-year-old Scully as he flew around the world opening exhibitions in 15 separate museums in nine different countries. Producer Michele Camarda and I realised early on that, as Scully had developed his career by moving from town to town, country to country, like an itinerant worker, we could tell the story of his life past while we were telling the story of his life present.
For example, when he opened a show in Ireland, he also showed us where he was born to a homeless mother on the streets of Dublin, then when we learnt that he moved to England at the age of four, we went with him to London to open a show in his Mayfair gallery, where the eye-watering wealth of an exhibition banquet contrasted shockingly with the story of his rough teenage years of starvation when he ran with violent street gangs.
This approach was possible because some of Scully's many exhibitions of 2018 were in the right places – Newcastle, where he went to art school; New York, where he moved to in the 70s and so on. But we also knew that, in order to make a successful feature doc, we had to continually surprise the audience so this approach on its own wasn't enough.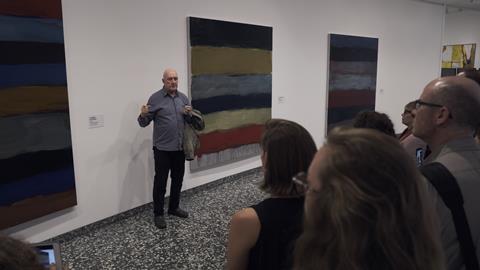 We also needed to change tack to explore important issues such the unique way in which Scully uses his powerful personality to dominate the art world, promote his striped abstract paintings and control his market.
However, this ambitious plan which saw us spending over a year crisscrossing the globe and mingling in Scully's often exclusive circles had to work on our modest BBC Arts budget.
We couldn't afford to hire large crews and expensive fixers, or ship hundreds of flight cases filled with equipment. We had to adapt.
But the most important criteria of all wasn't money dependent. There were two essential prerequisites: gaining enough of Scully's trust to secure the access we needed and knowing his work and life well enough to be able to steer the interviews and story.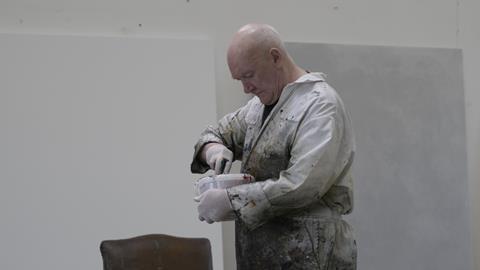 Lots of intense research took care of the latter but getting to know Scully and winning his confidence had more complicated repercussions. Scully has spent a lifetime persuading an often-skeptical world of the merits of his striped paintings. His force of will is, frankly, mesmerising and it was often challenging to remain objective and avoid being too immersed in his powerful persona.
It took many months with several versions in the cutting room with the sharp editorial guidance of my producer Michele Camarda to finally achieve the right balance of wry observation with empathy when telling Sean's remarkable life story.
This was the most difficult part of making a biographical film; remaining balanced, striking the right tone and showing as complete a picture as possible.
Shooting Sean Scully while on the move
Juvenal De Figueiroa
Cinematographer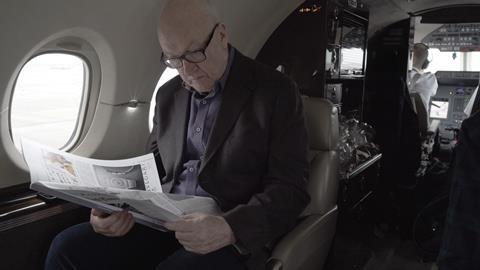 When travelling with Sean, I embraced the latest technology, using the most compact cameras and sound equipment that could be whipped out at short notice and kept running while we slipped into the back seat of his car or crushed into an elevator with him.
One of our best interviews happened by chance when we ducked into a restaurant and I parked the camera on the table so that we could eat. We all forgot it was there, relaxed and ended up with a truly unselfconscious interview.
This equipment had to deliver high quality 4K pictures and sound but look more like I was a photography enthusiast than a professional cameraman. I adapted a medium-sized tourist's backpack so that I could cram everything I needed and slip it over one shoulder when going through customs.
In the tourist backpack were: two cameras (a Sony AS7 Mk II and Sony 6500) with Rode Video mics; two Zeiss Batis primes and Sony Zoom lenses; two Zoom F1 audio recorders with Sennheiser lapel mics; and a Zoom H6 recorder with Sennheiser MKH 416 boom mic. There was also a handheld gimbal, thin LED light and collapsible stand, small reflector and a Manfrotto Befree travel tripod.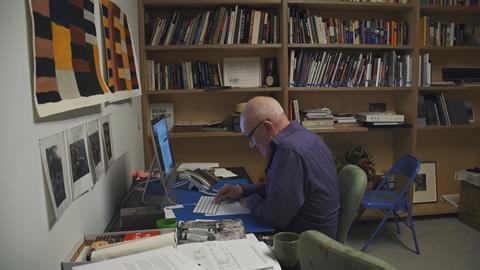 When I got a little too greedy in St Petersburg Airport and thought I could get a shot of Scully going thorough security, I suddenly found myself surrounded by guards.
This was the week Britain had expelled 23 Russian diplomats following the Skripal poisoning, so I thought I was headed for Siberia, but thanks to my lightweight set-up they thought I was just a hapless tourist.
As you may have already guessed, when travelling, I often had to get used to what documentarians call single-shooter, which meant jugging camera, sound and lighting on my own.
My proudest moment was dashing across a slippery, snow-covered Russian street with camera on a gimbal in one hand, trained on Scully and in focus, reflector in the other, while we avoided oncoming traffic as he continued answering questions.
When in cozy comfort, however, I shot on a Blackmagic Cinema Camera and URSA Mini with Zeiss Super Speed or Leica Summilux lenses for a more stable result.