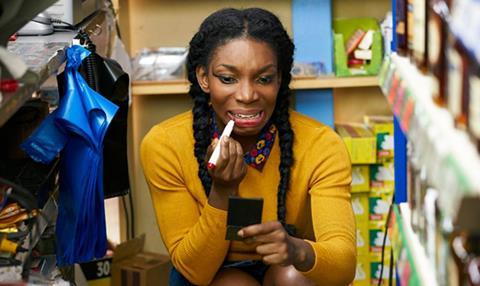 Family, sex, faith and friendship - Chewing Gum is a comprehensive look at life in contemporary Britain, through the prism of a council estate in Tower Hamlets.
At its heart is a barnstorming central performance from writer and creator Michaela Coel as Beyoncé-obsessed virgin Tracey Gordon, which has catapulted her into the top tier of comic talent and also landed her the On-Screen Talent award.
The E4 show never feels like an exercise in box-ticking and was quickly recommissioned.
It manages to build a filthy, laugh-out-loud comedy around issues of ethnicity, sexuality, class and lack of opportunity, but the over-riding impression is one of distinctiveness rather than diversity - the most obvious reaction to watching Chewing Gum is to think how there are few other shows that feel anything like it.
It was a fantastic showcase for emerging talent such as Susan Wokoma, John Macmillan, Danielle Walters and Robert Lonsdale, alongside established actors Maggie Steed, Tanya Franks and Paul Kaye.
But it is hard to look beyond Coel and Tracey's fourth-wallbreaking turns to camera.
The judges thought the show was brilliant in the way it transported viewers to Tracey's world and loved that it was "close to the edge".
SHORTLIST
OFF THEIR ROCKERS
CPL Productions for ITV
Outrageous, irreverent behaviour is the hallmark of the Blue Badge specials of this hidden-camera comedy series, which features a fearless disabled cast playing pranks on the public. Reshaping the ITV format around disability pushed it into completely new territory.
THE COOPERS VS THE REST
BBC Studios for BBC2
The Coopers vs the Rest is a fresh take on the chaotic middle-class family sitcom, which Chortle branded: "Outnumbered - but with adopted kids." Love, anger and frequent madness abound as award-winning writer (and adoptee) Andy Wolton tackles major issues in a light-hearted way.
THE GO HOME OFFICE
Rumpus Media for BBC3
Written by fast-rising comedian Tez Ilyas and developed with Rumpus Media, this original idea was loosely based around Tez's civil service day job. Set in a dystopian future where a Britain Firststyle government is running the
country, Tez plays a civil servant jobsworth deciding which ethnic minority groups can stay in Britain.
MALTESERS: NEW BOYFRIEND
Mars/AMV BBDO for Channel 4
The judges were impressed by this groundbreaking ad, which came about after Channel 4 laid down the gauntlet to advertisers to innovate around disability.
Its adult humour got people talking by emphasising that disabled people have sex lives too, and it quickly went viral, passing 1.5 million views on YouTube in the first 24 hours after release.