'You feel that they really care and are invested in the stories'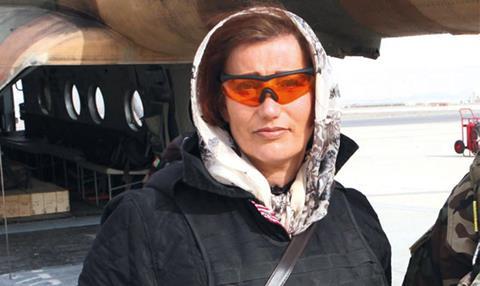 Quicksilver Media for Channel 4
Quicksilver Media's flagship current affairs series has retained its edge despite having been screened since 2000.
Over the past two years, the 30-minute programme has tackled stories about gender, sexuality, race, oppression and disability from underrepresented groups globally.
Recent highlights include Mission Critical: Afghanistan, the first film fronted by a transgender correspondent. Former
British Army officer Abigail Austen (pictured) shone a light on the country's conflict with the Taliban and Isis after access was secured to the Afghan Air Force.
Elsewhere, homophobic persecution was addressed in Exiled: Germany's Gay Refugees and China's Gay Shock.
The show's diverse production team, with members from Nigeria, Iraq, Bangladesh, Venezuela and Paraguay, helps to generate a fresh style of storytelling, which is carried through with its commitment to on-screen diversity.
Three of the show's reporters - Ade Adepitan, Sophie Morgan and Giles Duley - have disabilities.
The judges praised the longevity and consistency of the show, which had stayed true to its title. "You feel that they really care and are invested in the stories," they added.
SHORTLISTED
HATE CRIME
ITV News Central
The report into the effect of hate crimes offered a platform to individuals including a 16-year-old who was attacked for wearing a veil, and Eastern Europeans concerned about post-Brexit reprisals. Giving weight to its work, it linked up with The Centre For Hate Studies.
JIHAD: A BRITISH STORY
Fuuse Films for ITV
Director Deeyah Khan, herself a target of extremist fundamentalists, set out to explore the allure of the jihadi message.
Embedded for two years with some of the movement's leading figures, she also met British Muslims caught up in extremism to highlight their experiences of discrimination and rejection by mainstream society.
NO GO BRITAIN
Channel 4 News
Channel 4 News committed the vast majority of its independent film fund budget to the strand, which aims to highlight individuals whose disability has led them to campaign for change. Issues raised across the 15 films included the lack of adequate public toilet facilities.
WILL BRITAIN EVER HAVE A BLACK PRIME MINISTER?
In-house for BBC2
Part of the BBC's Black And British season, Homeland star David Harewood fronted a film that used statistical modelling to reveal the UK's inherent prejudice.
Schools, universities and the BBC itself were among the institutions accused of failing to help black people realise their full potential.