'It's full of untold stories of under-represented communities'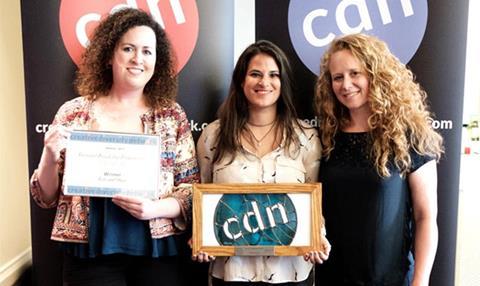 Flashing Lights and CTVC for BBC4
The one-off immersive and experiential documentary was applauded by the judges for being "bold" and "insightful".
The film follows some of the key characters at the St John's Deaf Club in north London as they face life's challenges.
With no commentary or music, it is the first documentary made entirely in British Sign Language, where the only
sounds are atmospheric.
Life And Deaf follows characters such as Tina and Mario Costi, who are expecting a baby. For generations, boys in Mario's family have been born deaf, while girls can hear.
It also looks at the St John's Deaf Club football team as they prepare for the English Deaf Cup.
The documentary was co-produced by CTVC and Flashing Lights and featured a diverse film-making team, consisting of hearing, but non-signing, director Clare Johns, a deaf producer and a hearing but signing editor.
One judged said that it "gave access to a world that you want to be part of", while another added that it did not feel "worthy".
"It's full of untold stories of under-represented communities," the judge added.
SHORTLISTED
BORN IN THE WRONG BODY
Firecracker Films for C4
The series helped to raise awareness of the issues facing trans individuals and their families. Across three films - My Transgender Kid, Girls To Men and My Transgender Summer Camp - the series counters some of the prejudices and stereotypes that viewers may have previously held.
KIDS ON THE EDGE
Century Films for Channel 4
Kids On The Edge explores the treatment of children dealing with complex issues. Century Films secured access to the Tavistock and Portman NHS Foundation Trust to investigate the unprecedented numbers of children being diagnosed with mental health disorders.
RIO 2016 PARALYMPIC GAMES
Sunset + Vine for Channel 4
Channel 4's coverage of the 2016 Paralympic Games featured presenters such as Ade Adepitan and Arthur Williams, who had worked on the event in London in 2012, as well as new disabled talent such as JJ Chalmers and Sophie Morgan.
C4 was applauded for increasing diversity among those working behind the camera.
YOUNG, GIFTED AND CLASSICAL: THE MAKING OF A MAESTRO
Outline Productions for BBC4
The documentary follows Sheku Kanneh-Mason, who made history when he became the first black winner of the BBC Young Musician competition.
Featuring his family, including his six brothers and sisters, the film looks at the sacrifices his parents made to help him pursue his musical dreams and explores what it means to be a young, black, classical musician.