'The Top Gear of chat shows'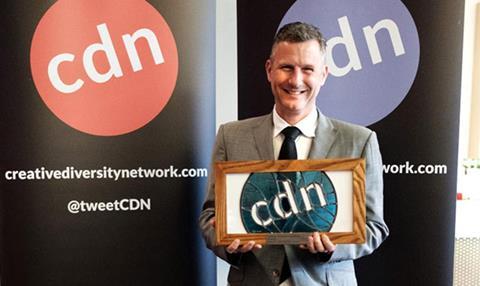 Open Mike's topical satire show launched in 2012 as a daily live accompaniment to the London Paralympic Games.
Hosted by prosthetic foot- wearing comedian Adam Hill (pictured), prosthetic leg-wearing journalist Alex Brooker and able-bodied comedian Josh Widdicombe, each show delivered a comprehensive rundown of the day's sporting action.
The show rated well and, after its successful Paralympic run, it returned as a fully-fledged chat show with a regular Friday night spot on Channel 4. Then in 2016, it returned with another Paralympics series broadcast from Rio.
It was the first time an entertainment show had been put at the heart of sports coverage - and the experiment worked.
Judges commended the "very strong run of shows" for "changing the way people see disability". One judge called it a "breakthrough moment" for the show, while another described it as "the Top Gear of chat shows".
It seamlessly transitioned from its regular Friday night slot, where it had picked up a loyal 16-34 following, to airing daily in a pre-watershed slot. As a result, an increased number of 16-34s watched the Paralympics coverage.
SHORTLISTED
THE DENGINEERS
CBBC Productions for CBBC
CBBC's factual entertainment series was a makeover show with a twist: 'deningeers' travelled around the UK to make amazing dens for deserving children. The Deningeers celebrated the diversity of the CBBC audience, with the final shortlist of kids cast to reflect the whole CBBC audience.
THE LET'S GO CLUB
CBBC Productions for CBBC
This CBeebies magazine show was designed to exhibit as much user-generated content as possible and was stocked with children's send-ins of holiday snaps and arts and crafts. Diverse children taking part in a range of activities were
featured to show young audiences how much they have in common.
THE ONE SHOW
BBC Studios for BBC1
The One Show's ambition is to reflect and represent lives, landscapes and stories from around the UK. One in five of the presenter-led films was fronted by diverse talent, while 13 out of the 21 shows in November were fronted by one or more presenter from a diverse background.
SORRY I DIDN'T KNOW
TriForce Productions for ITV
This comedy panel show embodied TriForce Productions' ambition to deliver inclusive programming for a mainstream audience and employed a 50/50 male-female split with a 'token' white male.
Judges described it as "distinctive" and "bold" and commended it for "breaking open general assumptions around casting as well as content".