NAB 2015: Black Box is demonstrating three 4K-ready switching and extensions platforms for broadcast and post-production applications at NAB.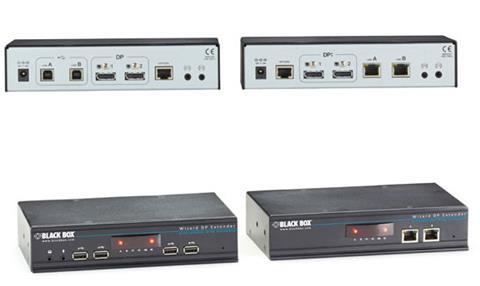 KVM extenders from Black Box transmit DisplayPort signals over a single cable to reduce connectivity deployment costs.
The Agility IP-based KVM switching and extension system features 'no-loss' signal management for point-to-point extension, multicasting, single-target sharing, and KVM switching over an ethernet LAN infrastructure.
Black Box said planned system endpoints will allow video signals with 4K resolution to be added to existing deployments using the same system controller and LAN infrastructure.
The Dual-Head DisplayPort KVM Extender provides uncompressed extension of DisplayPort video with 4K resolution, USB, and audio up to 500 feet.
This extender also supports DisplayPort Dual Mode which converts the received video signal to HDMI or DVI.
The DKM FX digital matrix switching system supports SDI, HD-SDI, 3G-SDI, and single or dual-link DVI signal extension. The system also supports 4K resolutions, with modular interface cards for DisplayPort extension over CATx or fibre cable. The system also supports peripheral signals such as USB, RS-232, and audio, and switches all signals with instantaneous performance.
Also being unveiled is the Black Box Freedom II switch enables zero-touch KVM switching between four local PCs.
The Freedom II works like an extended desktop switch. Once the screen layout is configured for the attached PCs, switching between PCs is as simple as moving a mouse from screen to screen. The Freedom II LEB Monitor ID kit enables users to be aware of which screen is active, as well as the location of the mouse pointer when using the switch.
Additionally, the Freedom II integrates with the Black Box Agility IP-based KVM system over an ethernet LAN, which simplifies management in broadcast control rooms.