NAB 2015: Blackmagic has revealed the Ursa Mini and Ursa 4.6K Super 35 digital film cameras.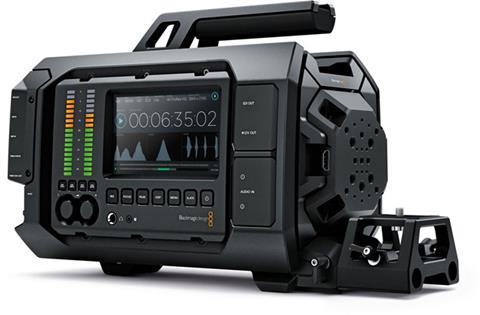 Blackmagic Ursa Mini, a compact and lightweight Super 35 camera, features a new 4.6K image sensor, up to 15 stops of dynamic range and dual RAW and Apple ProRes recorders.
The 4.6K sensor captures 4608 x 2592 pixels and features a global shutter for shooting up to 30 frames per second. It offers up to 15 stops of dynamic range to deliver more latitude than traditional motion picture film, claimed the company.
The camera can also shoot up to 60 frames per second with rolling shutter for users that need to work at higher frame rates.
Built in sensor refrigeration ensures maximum dynamic range for images that have high detail in both dark shadow and bright highlight areas of the picture. Images are saved using 12-bit lossless CinemaDNG RAW, or ProRes for easy post production workflows with minimum storage requirements.
In an attempt to dramatically reduce on-set equipment the camera includes built in histograms, focus assist, audio level meters, dual RAW and ProRes recorders, high quality stereo microphones and a 5-inch fold out screen that can be used as an on-set monitor.
Ursa Mini is available in four models, with customers able to choose either EF or PL lens mounts and 4K or 4.6K image sensors. Prices for the Blackmagic Ursa Mini start at £2,149 for the 4K EF model.
Ursa Mini includes ¼-inch mounting points on the top and bottom of the camera for attaching standard accessories that customers are accustomed to using with larger, full size cameras. The body is crafted from an advanced technology magnesium alloy, making it rugged, yet extremely lightweight and comfortable enough to be used all day, said the company.
There is also a new range of accessories that are designed to match and work perfectly with Ursa cameras by Blackmagic. Customers can choose from the Blackmagic Ursa Mini Shoulder Kit which includes a shoulder pad with built in quick release tripod mount and a top handle. The Blackmagic Ursa Viewfinder features a high resolution 1920 x 1080 colour OLED display and glass-based optics, so customers get a viewfinder that allows perfect focusing and operates just like an optical viewfinder.
"Ursa Mini features a new 4.6K image sensor with almost more dynamic range than the human eye can see, and far more than most traditional film," said Blackmagic Design chief executive Grant Petty.
The new sensor will also be available in two new models of the Blackmagic Ursa camera. The Blackmagic Ursa 4.6K EF model will be available for £4,979 and the Blackmagic URSA 4.6K PL will be available for £5,345.
Both 4.6K models will start initial limited availability shipments in June, said the company, ramping up into full volume in late July and into August.
In addition, existing Blackmagic Ursa customers can upgrade to the new 4.6K sensor and the current shipping 4K models of Blackmagic Ursa EF and PL cameras is being reduced.