Live production/studio camera launched as part of new range of affordable live production products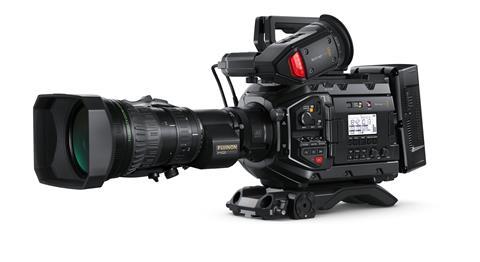 It's disruption time again as Blackmagic takes the industry by surprise once more, this time with the release of a 4K UHD broadcast camera, a low cost live production switcher and control panel, as part of a suite of products making up a complete broadcast-ready camera channel, all for less than US$10,000 (£7,000).
Blackmagic's CEO Grant Petty revealed the products during a near two hour live broadcast on YouTube at 6pm UK time. For those that want to watch all the announcements in full, here you go…
The Blackmagic URSA Broadcast camera (pictured top) is the most significant of the product releases. It's an innovative looking 4K camera that caters for both live production and studio productions, and includes all the features you'd expect to find on cameras of this type.
But its major significance lies in its price. It's just US$3,495 (£2,450), which is what you'd typically spend on a DSLR, not an interchangeable studio/live production camera.
The URSA Broadcast works with B4 broadcast HD lenses and is designed to capture images with a wide depth of field, in both HD and 4K UHD. It has the traditional external controls and buttons you'd expect to find on such a camera, built in optical ND filters and it records to non-proprietary CFast and SD cards.
"It can be re-purposed and used on every type of project, whether out in the field or in the studio. It's like getting two cameras in one" Grant Petty, CEO, Blackmagic Design.
During the launch, Petty described the camera as "like two cameras in one – it's a field camera for ENG as well as a professional studio camera."
Blackmagic's press release adds that the URSA Broadcast camera "captures incredible looking video with accurate skin tones and vibrant colours and high dynamic range. Customers don't have to colour correct images before going to air, making URSA Broadcast perfect for news, live sports, studio talk and game shows and more."
The wide depth of field images from the camera and B4 lenses mean the picture stays in focus when the lens is zoomed in and out, for close up, medium and wide shots.
The B4 lens mount can also be swapped with optional EF, F and PL mounts enabling a range of lenses to be used, from photographic lenses up to "massive cinema lenses," says Blackmagic.
It also appears to be a robust camera, with a magnesium alloy body that's "durable and light enough to use anywhere," says Blackmagic.
"URSA Broadcast lets customers get the most out of their investment in cameras and lenses because it can be re-purposed and used on every type of project, whether it's out in the field or in the studio. It's like getting two cameras in one." said Grant Petty, CEO, Blackmagic Design. "URSA Broadcast is exciting because it makes high end broadcast camera technology available to everyone from AV and web producers all the way up to professional broadcasters."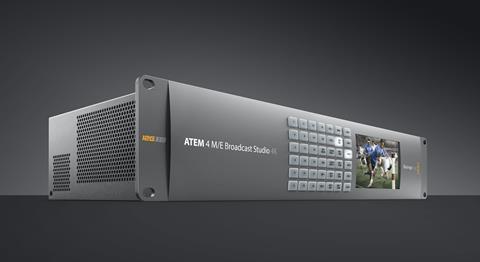 The other products Blackmagic launched as part of its live production offering included an HD and 4K UHD live production switcher. The ATEM 4 M/E Broadcast Studio 4K (pictured above) enables users to create live, switched, high frame rate HD and Ultra HD programs at up to 60 frames per second. It includes 16 advanced keyers and comes with a free software control panel with a visual control panel for making quick adjustments, loading graphics and mixing audio. It costs US$5,995 (£4,200).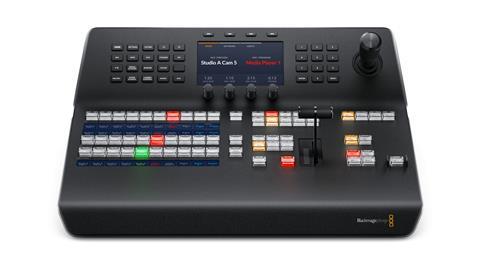 Blackmagic also revealed a new ATEM 1 M/E Advanced Panel (pictured above), which is a remote camera control unit that works with the ATEM switcher. It features an LCD screen, a joystick for iris and master black control, and control buttons that enable a single operator to adjust a wide range of technical parameters such as the black level, gain, colour balance, shutter speed and more. It costs US$2,995 (£2,100).