NAB 2015: Blackmagic introduces tiny Ultra HD live studio camera and the world's smallest digital film action camera with innovative remote control.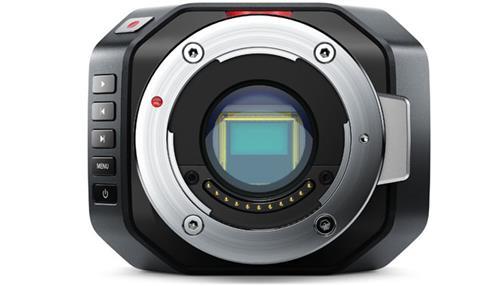 Blackmagic Design has announced the Blackmagic Micro Studio Camera 4K, a tiny Ultra HD and HD studio camera for live production. The company also launched the Blackmagic Micro Cinema Camera, a miniaturised Super 16mm professional HD digital film camera that can utilise model airplane remote controls to operate the camera wirelessly.
The Blackmagic Micro Studio Camera 4K is available in July for £929. Small enough to fit in the palm of a hand, it can be used for both HD and Ultra HD production. It operates up to 2160p30 when operated in Ultra HD or up to 1080p60 when operated in HD.
When used for regular HD, Blackmagic said the extra sensor resolution completely eliminates any colour loss from the sensor's bayer pattern so customers get full bandwidth RGB HD colour and sub-pixel anti-aliasing for fine detail HD images.
The Micro Studio Camera 4K features a built in colour corrector, talkback, tally indicator and a flexible MFT lens mount that converts to other lens mounts via third party adapters. The camera is engineered with a super tough magnesium alloy core in a body that's not much larger than the lens mount.
An expansion port supports multiple control connections such as PTZ serial output, B4 lens data link output and S.Bus input, allowing users to build customised camera control solutions.
The camera also features 6G-SDI output and a program return input that allows it to be controlled remotely from a switcher using Blackmagic's SDI control protocol. This lets customers change camera settings, color balance, black levels, gamma, lens focus, iris, and zoom from any ATEM switcher
Remote control camera
The Blackmagic Micro Cinema Camera is available in July for £709. It shoots full 1080 HD with 13 stops of dynamic range and features built in 12-bit RAW and ProRes recording.
Blackmagic suggested the camera was small enough to be used on a skateboard for extreme sports shots, mounted to a drone for recording panoramic flyovers, or strapped to a helmet for POV shots. The camera can be mounted in cars on walls and then controlled directly from buttons positioned on the front of the camera itself.
The Blackmagic Micro Cinema Camera sports a switchable 60 fps rolling shutter or 30 fps global shutter, capable of exposing the entire image at the same time. Itfeatures an active Micro Four Thirds lens mount and is adaptable to other lens mounts.
The camera also features a built-in expansion port that provides access to many of the camera's functions via PWM and S.Bus, connections that are used on model aircraft remote control gear. These consumer hobby products feature multiple channels that can be mapped to any camera or lens setting in the camera and then accessed via the radio controller. Users can then remote control features such as iris, focus, audio levels, and start and stop recording.
The expansion port also includes composite video out with overlays so users can use video transmitters to get real time feedback from the camera for framing, confirming camera settings and to see the state of recording. It also includes a HDMI connector for monitoring video output and a 3.5mm stereo input for connecting external microphones or other line level devices.