NAB 2015: Blackmagic has been preparing its product line for higher 4K/UHD frame rates by announcing a raft of components capable of 12G-SDI.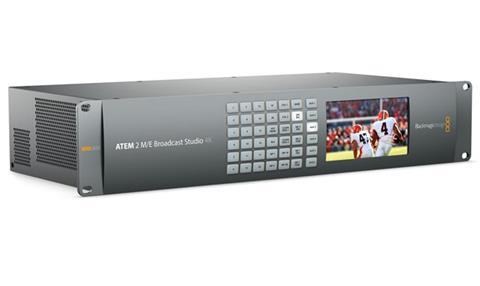 Leading the pack at NAB was the ATEM 2 M/E Broadcast Studio 4K, a high frame rate Ultra HD 2160p60 switcher with 12G-SDI for £4,075.
The new 20-input switcher creates live, switched, high frame rate HD and Ultra HD programs at up to 60 frames per second. With 12G-SDI technology, users can connect 2160p60 cameras using a single, standard SDI cable.
The multi rate 12G-SDI connections automatically switch to 6G-SDI, 3G-SDI and HD-SDI, making the switcher compatible with existing HD equipment. Blackmagic said the ATEM 2 could master programs in 2160p60, while simultaneously outputting them in HD with realtime down conversion.
The switcher also features four built in media players and a larger media pool with more memory for graphics and video clips. It also has built in keyers, dynamic transitions, a powerful DVE, SuperSource multi layering, power macros, audio mixing, camera control with colour correction and more. Blackmagic claimed the new model was a direct drop in replacement for any ATEM switcher, eliminating the cost and time required for retraining.
Every input is HD or Ultra HD switchable and all have automatic frame re-synchronisation. There are also two balanced XLR audio inputs and outputs for connecting mixers and other pro audio gear. The ATEM 2 M/E Broadcast Studio 4K has both an Ultra HD program output as well as a down converted HD program output, along with six auxiliary outputs for sending clean feeds out to screens, projectors, recorders or monitors. Dual Ultra HD multi view outputs let customers monitor program, preview and cameras on large screen Ultra HD displays.
Blackmagic also announced the Teranex Mini family of video converters featuring 12G-SDI, front panel controls and LCD, built in power supply and support for all SD, HD and Ultra HD formats up to 2160p60. Teranex Minis will retail from £335.
Teranex Minis can be positioned on desktops or rack mounted and can handle the speeds of 12G-SDI without overheating, claimed the company. The same converters can be used on all older SD and HD equipment, changing video standards automatically.
The converters feature an optional smart front panel that includes a spin knob, colour LCD and multiple buttons. It can replace the basic front panel from a Teranex Mini to allow full setup and control from the front panel. Users can then see the video being converted, monitor audio levels and even verify timecode and the video standard under conversion.
Also included in all models is built-in Ethernet so Teranex Minis can be remotely administered from a central location using Blackmagic's new Converter Utility for Windows and Mac OS X. This Ethernet connection can also power the converter if connected to a PoE switch.
The new Teranex Mini design also features XLR connectors for balanced analogue audio, AES/EBU and timecode connections and also include true Teranex up and down conversions.
Blackmagic also unveiled HyperDeck Studio 12G, a professional solid-state disk-based broadcast deck that can record SD, HD and Ultra HD up to 2160p60.
Available in May for £1,935, HyperDeck Studio 12G features VTR style controls and includes 12G-SDI and HDMI 2.0 connections for recording high frame rate Ultra HD over a single cable.
Blackmagic said the single rack unit device offers the same functionality and control of a traditional broadcast deck with the advantage of recording directly to 10-bit 4:2:2 uncompressed files for SD and HD, or to broadcast quality Apple ProRes and DNxHD files for SD, HD and Ultra HD.
There are two SSD slots allowing for continuous recording of full 10-bit 4:2:2 quality video onto standard 2.5-inch solid state disks. When one disk is full recording automatically continues onto the next disk.
The company also announced Smart Videohub 12G 40x40, shipping in May for £3,395.
The 12G-SDI model of the Smart Videohub router allows all SDI video formats up to 2160p60 to be routed simultaneously. It features spin knob or push button control, LCD monitoring and Ethernet router control.