Sponsored content
Find out more
The new feature delivers highly accurate placements of full stops, commas, question marks and exclamation marks
Speechmatics, the Cambridge-based leaders in Machine Learning and Automatic Speech Recognition, today announces Advanced Punctuation, the first heavyweight, scaled-up punctuation model on the market for use in transcription.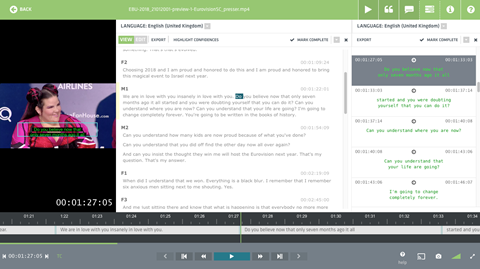 With the Advanced Punctuation feature, Speechmatics can deliver highly accurate placement of full stops, commas, question marks and exclamation marks, as well as enhancing capitalisation. Advanced Punctuation has been trained on over 2.5 billion words using market-leading neural networks, transforming the readability of transcripts.
"Advanced Punctuation enables us to capture the subtle, yet important parts of speech that have otherwise proved challenging," says Nirel Gramage, Manager, Developer Ecosystem, at Veritone.
"The ability to distinguish pauses, sentences, enthusiasm and questions leads to more accurate metadata and better results, improving search and contextual understanding of the transcripts."
"Advanced Punctuation drastically improves the quality and readability of raw scripts, making them less time-consuming to edit," adds Hewson Maxwell, Head of Technology Development at Red Bee Media.
"Punctuation beyond a full stop enriches the transcript and at Red Bee Media, we are very excited about this new capability from Speechmatics."
"While accurate transcription of words is important, a block of text with no punctuation is limited in its use, and ease of use," said Ian Firth, VP Products at Speechmatics, "…but the addition of punctuation transforms the usability of a transcript, allowing our customers to view the nuances of speech."
Speechmatics are pioneers of ASR, and with the launch will be supporting the expansion and accuracy of punctuation in the market. The Advanced Punctuation feature is available now in the cloud and on-premises, with all punctuation marks being included by default for Global English, Spanish, German and French.
About Speechmatics
With the voice revolution here, Speechmatics has used its decades of machine learning and research expertise to develop automatic speech recognition (ASR), available securely on-premises and in private or public clouds. The technology can be used for real-time or pre-recorded audio and video files, pushing the boundaries of speech recognition innovation and industry-leading language coverage. We're continually developing new technology that can help customers across a variety of industries to accurately understand and transcribe spoken words, from call centres and financial enterprises to broadcast providers and beyond. For more information, please visit https://www.speechmatics.com/.