Sponsored content
Find out more
Complete survey for recommendations from ONE on how to boost your site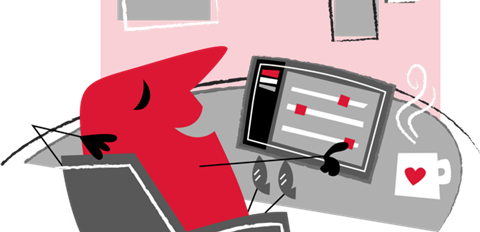 Your website is among your most powerful marketing and sales tools. Markets are still important, yes, and browsing a website doesn't quite have the same je ne sais quoi as sipping a rosé in Cannes, but buyers want to browse for content at their leisure and they expect a consumer-like experience when they look.
There are several key signs your website needs a revamp. Firstly, it's not memorable, or memorable for the wrong reasons. There are so many buyers in the market, but still a finite pool of people to reach and you want those people to return. Make your site memorable.
This is about the experience. Netflix is a prime example: people don't just log in for the catalogue, but the entire experience. They are presented with personalised, curated curated content and good navigation. Things shouldn't be different just because you operate B2B.
Is you site easy to use and does it load properly? Can buyers engage with the content and save shows of interest? Can they connect to the relevant salespeople? Can they register easily? Use Google Analytics to identify whether your returning visitor numbers are good. If they're low, poor user experience could be the culprit.
You must track user activity. Anonymous data from tools like Google Analytics and Hotjam provide insight into general behaviour, while known data is happily commonplace in TV distribution websites.
Your site may request user login to access the full catalogue but can you capture what those buyers are doing? If not, your site is acting as a shop window and not the powerful shop window it should be.
Understanding and using this activity is so important. Our latest buyers survey showed that 90% expect bespoke content – that's a guessing game if you can't track their activity.
Is your site using outdated technology? This can have a massive impact on experience, creating internal frustration when small site changes are made. If you rely on third parties to upload blogs or make changes, it's time to change.
You need to ensure your site works with all browsers and load times must be quick – sites that load in five seconds compared with 19 see 70% longer average sessions. And ensure your site is responsive – over 50% of web traffic is through mobiles, so a bad experience cuts out much of your audience.
Website speed speed really matters – so much so that load time is a ranking factor for Google. Slow loading pages disrupt the user experience and people won't wait. Check how quickly your site loads through tools such as GTmetrix. Ideally, load times should be under three seconds.
Google says that faster sites create happy users and that data shows it doesn't just boost the user experience but also reduces operating costs.
What about security? Websites get hacked – fact. Those sites relying on older technology are more vulnerable to breaches – a stressful experience at best and a lawsuit at worst, especially if you store personal data.
Fines for a data breach under GDPR are up to €20m (£18m) or 4% of annual global turnover – whichever is greater. That's not a scare tactic. Earlier this year, British Airways was fined £183m over the 2018 incident in which around 500,000 had personal and account information harvested, while hotel chain Marriott International was fined £99m over a similar breach.
Time is money and websites that aren't properly integrated with the rest of your tech stack waste time. As a distributor, you're managing multiple platforms for videos, rights, content and assets and if your website doesn't integrate with them, it becomes yet another thing to manage.
Interested in learning more? Use our free online tool to score your website. It's a quick survey focused on the four key areas we believe make up a successful distribution website: Buyer Experience, Internal Experience, Security & Stability and Market Readiness
Once you've completed, you'll receive detailed insights and tailored recommendations on how to accelerate your website to the next level.
LINK TO SURVEY: https://thisisone.tv/website-assessment