The 72-page 'coffee table' style print magazine is distributed with this week's Broadcast
Broadcast magazine has published issue #1 of its new quarterly magazine, Broadcast Sport.
The editorial focus of the 72-page title is on sports production, sports broadcast/distribution and sports tech innovation.
The cover story on the stylishly-designed first issue of Broadcast Sport is an 8-page feature on women's football (pictured). This looks at what's being done to televise and raise the profile of the women's game leading up to this year's Women's World Cup.
The sports production and broadcast highlights in issue one include a behind-the-scenes feature on a recent Gallagher Premiership Rugby game between Saracens and Leicester; how DAZN handles its boxing rights; an industry debate about how best to bring cricket to TV audiences; Sky Creative Agency's work on Sky's high-profile Formula 1 promo; how Swansea FC produces content for Swans TV; the history of Eurosport and a 6-page interview/profile piece with Sky Sports' director of content, production and operations, Steve Smith.
Elsewhere, there are articles on content production for basketball and ice hockey and Broadcast Sport's guide to the sports tech launches to look out for at NAB 2019 in Las Vegas.
There are also a series of fascinating comment pieces from high-profile figures within the sports industry, including BT Sport's Jamie Hindhaugh, Whisper Films' chief executive Sunil Patel, and sports broadcaster Gavin Ramjaun.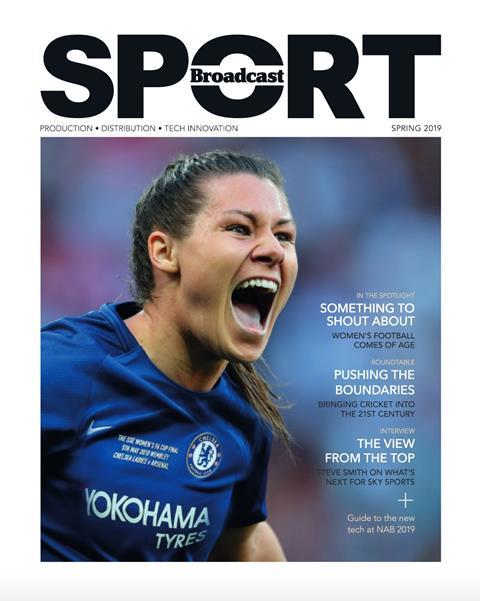 A digital version of the magazine is already available to flick through at https://www.broadcastnow.co.uk/digital-editions/broadcast-sport-spring-2019/5137464.article (or click the image of the cover above), while Broadcast subscribers will receive their free copy of the print issue of Broadcast Sport magazine on Friday 8 March.