New event focuses on best practice for creating sports content across live sports, documentaries and studio-based shows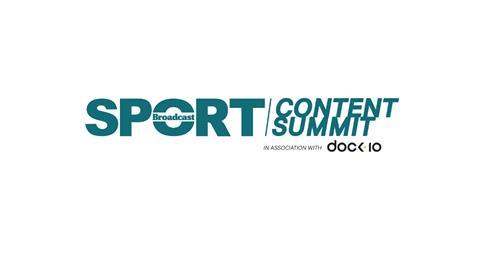 Broadcast Sport is running a full day Content Creation Summit at Dock 10 studios at MediaCityUK on Thursday, 5 March 2020. The event focuses on different areas of sports production, providing a platform for sports content producers and broadcasters to discuss best practice in making and televising live sports, sports-focused documentaries, studio-based programming, and more.
The Broadcast Sport Content Creation Summit will host 150+ attendees and run from 10am-4pm. It's a must attend event for sports producers, broadcasters, rights holders and sport technology services.
The event will discuss:
Reaching new audience – going direct to consumer
A discussion on how sports federations are increasingly going direct to their fanbase, with a wealth of new digital platforms and OTT services getting content to fans via apps rather than linear TV.
The tech driving new ways of storytelling
Content makers are benefitting from a host of tech innovations, opening up new possibilities for content creation, distribution and storytelling. This panel discusses what's around the corner and how tech is helping drive change and enhance the viewer experience.
The growth of automation/AI in sport production
Artificial intelligence and machine learning have the potential to reinvent how sports content is captured, edited and broadcast. The industry is already witnessing some of the benefits and juggling with the potential pitfalls of automation and this panel will discuss AI's impact to date.
The Sports Documentary boom
There's been a huge growth in sports documentaries over recent years, with streaming services in particular offering sports fans a generous assortment of high-quality docs covering a wide range of sports, as both one-off docs and as episodic series. This panel discusses what's driving the sports doc boom and what needs to be done to keep content fresh, engaging and informative.
The future of studio-based sport shows
Virtual studios, using gaming engines to create photo-real studio environments from green screen studio spaces are providing sports broadcasters with a limitless canvas on which to create the studio environment of their choice, often at a visual scale far beyond what could be done in the physical space. The panelists will discuss the future for virtual studios and, more broadly, studio-based sport shows.
How esports are changing the world of sports
A younger demographic of sports fans are embracing esports, viewing esports and conventional sports as equals. The platforms of choice for viewing the content are almost exclusively digital - twitch, facebook, youtube, and so on - with linear TV apparently offering little for esports fans. Can conventional TV catch up? What can it offer esports fans that they can't get already?
What Sports Commissioners want?
A panel of sports commissioners discuss the content that works for them, what resonates with sports fans and what content they are looking to commission in 2020.
To register for your place at the Broadcast Sport Content Summit, head over to https://www.eventbrite.co.uk/e/broadcast-sport-content-creation-summit-tickets-84897933003