All the details for Broadcast Sport's free-to-attend all day event at BT Sport studios on Thursday (14 November)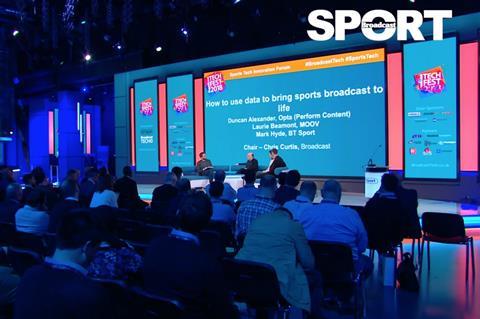 Broadcast Sport is bringing the very popular Tech Innovation Forum back to the vibrant atmosphere of BT Sport's studios in Stratford, London, this Thursday (14 November). It's the second year for the event, and this year we've gone even bigger and better, with a succession of compelling speaker sessions featuring some of the most pioneering and respected names in sports production, broadcast and tech innovation.
Throughout the day, the theme of innovation is explored in depth, with topics including the growth of remote production and virtual studios, enhancements in on-screen graphics and sports analysis, the rise and rise of esports, and the tech that will drive future production trends.
Across the different sessions are speakers from some of the most influential sports content makers and federations, including LaLiga, Copa90, Aurora Media, Sky, IMG, SailGP, BT Sport, Eurosport, DAZN and the FA.
BT Sport chief operating office Jamie Hindhaugh, said: "The inaugural Broadcast Sport Tech Innovation Forum, hosted at BT Sport studios last year, was a fantastic showcase of the latest thinking in our industry. We look forward to welcoming you again for the 2019 event."
The event is already at capacity - we can seat a maximum of 250 - but we've created a waiting list in case any spaces become free. To join the waiting list, please contact Rich Hewes.
Broadcast Sport Tech Innovation Forum 2019
9:00 - Event registration
10:00 - Opening remarks (Jake Bickerton, editor, Broadcast Sport)
10:05 - Opening keynote (Jamie Hindhaugh, chief operating officer, BT Sport)
10:20 - State of the Nation broadcaster panel (speakers: Jamie Hindhaugh, chief operating officer, BT Sport; Gordon Castle, SVP technology, Eurosport; Dom Wedgwood, SVP broadcast and technology, DAZN; chair: Gavin Ramjain, presenter, BBC Sport)
11:00 - AI and multi-cloud services for sport (speakers: Barry Flanigan, chief product officer, Copa90; David O'Carroll, operations director, Aurora Media; David Chandler, senior director, customer solutions channel, Veritone; chair: Ben Foakes, managing director, Base Media Cloud)
11:30 - Coffee break
11:50 - Enhancing the game: Graphics panel (speakers: Richard Wormwell, head of production innovation, Dock10; Nev Appleton, director, Moov; Jason Landau, head of creative innovation, Sky Sports; chair: Jake Bickerton, editor, Broadcast Sport)
12:20 - Future production trends: 8K, HDR, AI automation (speakers: Jason Coari, global director, product solution marketing, Quantum; Bryce Button, director of product marketing, AJA Systems; Jeff Palmer, vice president, sales, Speechmatics, Andy Beale, chief engineer, BT Sport; chair: Sadie Groom, founder, Rise)
12:55 - Timeline and BT Studio intro
13:00 - Lunch
13:45 - Rise of remote production (speakers: Chris Pearman, remote production strategy and architecture, Red Bee Media; Gemma Knight, director, BT Sport; David Harnett, head of operations, Timeline TV; Graham Fry, managing director, sports production worldwide, IMG; chair: Sid Kohl, sport producer and presenter)
14:25 - From studio to changing room: How analysis has reshaped sports (speakers: Anthony Hudson, football manager; Nicky Chauhan, producer, Sky Sports; Niall Hendry, product manager, ChyronHego; chair: Conor Dignam, chief executive, MBI)
14:55 - Coffee break
15:15 - Direct to consumer panel (speakers: Keegan Pierce, international business development, LaLiga; Will Pitt, head of sport, Imagen; James Durbin, chief executive officer, Madison Sports Group; chair: Steve McCaskill, sports journalist)
15:50 - Esports panel (speakers: Damien Cullen, senior video manager; Craig Santicchia, partnerships manager, Fnatic; Darren Cox, chief executive, Torque Esports; Rob Black, COO, ESL UK; chair: Sarah Leach, broadcast journalist, reporter and producer/director)
16:25 - 5G case study (speaker: Matt Stagg, director of mobile strategy; chair: Jake Bickerton, editor, Broadcast Sport)
16:45 - Closing remarks from Broadcast Sport
16:50 - Drinks reception
Here are some of the sessions, in full, from last year's Broadcast Sport Tech Innovation Forum