Quartet of female execs set out their ambitions to shake up the PSBs' top tier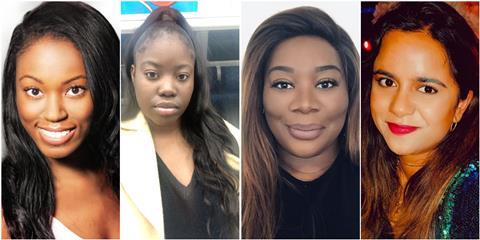 A group of four female mid-ranking BAME execs have revealed how they progressed from Facebook friends to securing weekly meetings with the PSBs.
Jacqueline Baker, Vivian Eguridu, Carissa Juma and Abby C Kumar told Broadcast that they are yet to assemble in person due to lockdown restrictions, having met via the BAME TV Society Facebook group.
Not that they have let the lack of face-to-face interaction hold them back.
After branding themselves the BAME Taskforce, the quartet penned an open letter, co-signed by 900 individuals, to culture secretary Oliver Dowden, the PSBs, Netflix and Amazon outlining individual experiences of racism and offering a five-point plan for achieving better equality.
Within a week, meetings had taken place with Tony Hall, Alex Mahon, Kevin Lygo and Ben Frow – with regular lines of communication into the PSBs now established.
"They were genuinely moved by the experiences in the letter," Baker said.
She added that the group's message that people "just want to come to work without experiencing racism" had proved as powerful as the statistics it set out.
ViacomCBS director of programmes Ben Frow has quickly introduced a Promotion Opportunity Project as a direct result of his meeting with the group. Part of Viacom's 'no diversity, co-commission' initiative, it supports offering mid-level BAME execs the opportunity to work on primetime programming.
Baker said: "We are solution-focused. We want to come up with practical schemes which tackle different areas, but specifically mid-level."
Frow added: "It was from the energised and thoroughly enjoyable meeting with the BAME Taskforce that we in C5 commissioning came up with our Promotion Opportunity Project."
The taskforce is hoping to generate additional momentum through 'pan-broadcaster' initiatives.
Eguridu said: "We've been encouraging cross-PSB collaboration for training and mentoring plans," adding that they appear open to forming partnerships. "There is excitement about rallying together."
Beyond this, the group's aims include increasing BAME authorship; increasing BAME commissioners by 25%; establishing an independent body to monitor grievances; and improving Diamond data.
Of the latter, Jumu said: "How can you measure success without accurate data?"
The women said the government is next on their lobby list.
Kuma credits their impact on the top echelons as a direct result of their mid-level ranking.
"The voices we bring to the table aren't the normal senior, internal people who advise on diversity policies," she said, suggesting that they offer a unique perspective on issues.
"There is something in the air," Eguridu said. "George Floyd was the catalyst and now it feels like people are genuinely listening."