Lucy Kirkwood calls on broadcasters to look beyond 'white western writers' like herself
Chimerica writer and creator Lucy Kirkwood hopes upcoming Channel 4 drama will act as a vehicle to open the door for Chinese-British writers.
Speaking at a screening for the new four-part drama, Kirkwood said she was conscious of being 'a white western writer' covering a story that weaves between American and Chinese backdrops.
"In this country, we have a bunch of brilliant Chinese-British playwrights, including people like David K.S. Tse and Daniel Yorke," said Kirkwood.
"China is not a country we often see talked about by people of Chinese heritage. We hope this opens a door and there are more people speaking about their own country and not just outsiders' views of it."
Kirkwood's comments come in the wake of controversy over CBBC's planned sitcom Living with the Lams, which has come under fire from South-East Asian writers over its primarily white writers' depiction of a Chinese family in the early stages of its development.
Last week, campaigning group Beats stepped up its complaint with an open letter to all commissioners of scripted content at UK broadcasters, urging them to "consider the fullest consequences of your decisions when you put together a team without first considering the involvement of British East Asian talent in your process."
Bold commission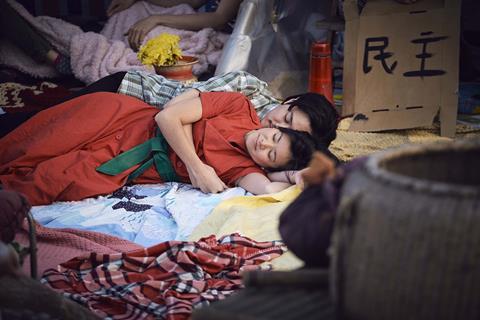 Adapted from Kirkwood's 2013 Olivier-winning play of the same name, Chimerica follows the haphazard life of American photojournalist Lee Berger. When Lee's professional integrity is questioned, he embarks on a mission to track down a Chinese man he photographed during the Tiananmen Square protests in 1989.
Colin Callender, chief executive of Playground Entertainment, paid tribute to C4 for commissioning the show.
"This is a complex, politically sensitive and multi-layered drama that features Chinese characters speaking in Mandarin," he said. "For a British broadcaster to commission this is pretty damn bold and speaks to the DNA of C4.
"I do not believe a US network would have commissioned this show. Despite the rise of the SVoDs - and all this talk of a brave new world of television – America isn't that brave."
Actor and writer David K.S. Tse, who appeared in the original theatre play, said Chinese actors involved in Chimerica may find themselves blacklisted from Chinese and Chinese-funded productions.
"All of us involved passionately believe this story needs to be told," said Tse. "There are young people in China who do not know the story of the Tiananmen Square protest because the internet is not as free as it is over here. We need to hear more of these stories."
Chimerica airs on Wednesday 17th April on C4 at 9pm