Theresa May accepts BBC offer - but Jeremy Corbyn insists that ITV is the better option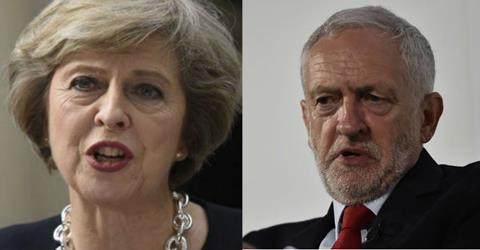 Plans for a televised Brexit debate are at an impasse as Theresa May and Jeremy Corbyn are at loggerheads over which broadcaster should host it.
Prime minister May has accepted the BBC's offer to host a televised Brexit debate at 8pm on Sunday 9 December, but Labour leader Corbyn has insisted that ITV should host it.
The corporation has offered to replace both the final scheduled edition of David Attenborough's Dynasties - and potentially, Jimmy McGovern drama Care depending on its running time - with a debate, to take place in Birmingham.
The head-to-head would feature a 12-strong panel of "prominent" campaigners, potentially backbench politicians, business and sports figures rather than frontline political figures, who will ask questions directly to the leaders. The panel members will be picked for their position as vocal Brexiteers and Remainers.
A moderator will put additional questions submitted by the public through social media.
Corbyn's choice
But Corbyn is understood to have reservations about the panel format and hopes to have a straight head-to-head on ITV instead, to air from 7pm ahead of the final of I'm A Celebrity at 9pm.
He has argued that ITV had "the most sensible offer" and would attract a "bigger, more diverse audience".
Interviewed on This Morning, Corbyn said the debate should not clash with the channel's popular reality show.
"One should always have respect for the viewer," he told This Morning. Regarding I'm a Celebrity, he added: "I want to watch it myself as well."
Part of the BBC's offer however is the strong inheritance offered by the double-whammy of the Doctor Who finale and the penultimate Strictly Come Dancing results show.
BBC assistant political editor Norman Smith told BBC News that the government chose the BBC over rival broadcasters to host the debate as it "would address the crux of the issue, namely the deal. It would be a serious debate about the deal."
Downing Street had discussed a potential slot on Thursday 6 December but opted for the Sunday, two days prior to the Commons vote on May's deal, due to its prominence.