Whisper Films to make fast-turnaround doc on Liverpool FC's Jurgen Klopp and Tottenham Hotspur's Mauricio Pochettino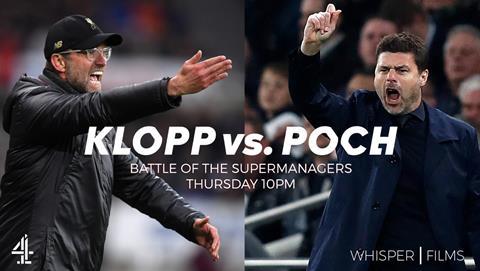 Channel 4 has commissioned Whisper Films to make a sports doc about Jurgen Klopp of Liverpool FC and Mauricio Pochettino of Tottenham Hotspur, ahead of the UEFA Champions League Final this Saturday 1 June.
The fast-turnaround doc, Klopp vs Pochettino – Battle of the Supermanagers previews the final with an in-depth look at the two managers, including the opinions of football personalities including John Barnes, Jermaine Jenas, Steven Gerrard, Jurgen Klinsmann, Glenn Hoddle, Gabby Logan, Les Ferdinand, Neil Ruddock, Matthew Syed and Chelcee Grimes.
The one-hour doc covers how the managers have gained cult status at their clubs through their unique methods and management techniques. It focuses on what makes them tick and, says Whisper: "In an era of managerial mind games in football, [the film] reveals how these two managers have achieved success on football's biggest stage, where others have failed."
The documentary was commissioned by Channel 4's head of specialist factual, Fatima Salaria. She said: "On eve of a seminal final that sees European football dominated by two remarkable English clubs, this programme takes the opportunity to examine the art of the manager in the modern game. Who are these hugely charismatic and influential executives who are able to make millions for their employers and transform lives of fans through success on the pitch? How do these two very distinct personalities and coaching styles get the very best from their players?"
Whisper Films CEO, Sunil Patel, added: 'It's fantastic to be producing something associated with such a huge sporting moment and to be uncovering unique insights about the two central characters. It's a fascinating subject; story-telling is an intrinsic part of we do and we feel privileged to have the opportunity to tell the story of Klopp vs Pochettino, two world-renowned sporting managers."
The commission follows Whisper's Channel 5 doc The Feud: Ferguson vs Wenger from last year. Two further commissions in that series will go out later this year. Klopp vs Pochettino – Battle of the Supermanagers airs at 10pm on Thursday 30 May on Channel 4.