Football media network Copa90 has created illustrations of globally renowned female footballers to showcase their talents in the build up to the Women's World Cup
Copa90 has marked the 50 days leading to the Women's World Cup in France this summer by commissioning 50 illustrations of the 50 players you should know ahead of the tournament.
The illustrations include the "greatest goal scorer of all time," US soccer legend Abby Wambach; England's footballer-turned-presenter Alex Scott; US forward and Olympic gold medalist Alex Morgan; Italy's goalkeeper Laura Guiliani; and Brazilian Marta Vieira da Silva, who's scored more World Cup goals than any other woman.
The artwork was created by a 10-strong illustration team that is 50% female and 50% male.
Copa90 says every illustration is "a celebration of a players' unique attributes as an athlete and a baller – highlights of their careers, their skills and the countries they represent, as well as an insight into what makes them such awesome and inspiring personalities and characters; unearthing who they are both on and off the pitch."
Some 'stories' referenced in the artworks: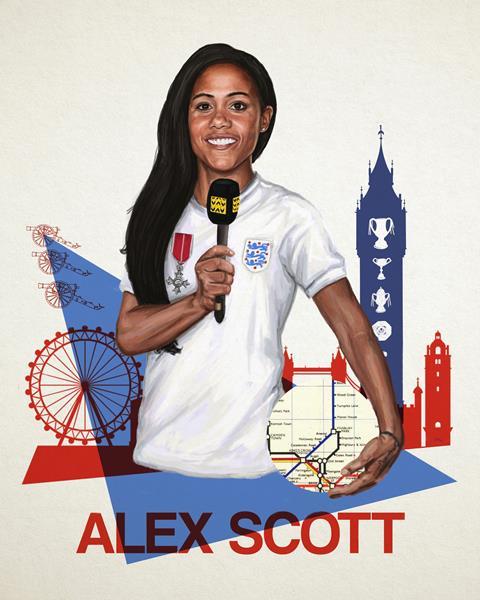 Alex Scott – (illustration by Phil Galloway) former England star
• Tube map, London landmarks - Alex was born and raised in London
• 3 Gunners - reference to Alex being an Arsenal legend.
• MBE on her shirt which she won for services to football.
• Holding a microphone because of her pioneering work in punditry and presenting on both the men's and women's game.
• Trophies - 5 Women's Super League titles / 7 FA Cups / 1 Champions League title / FA Women's Community Shield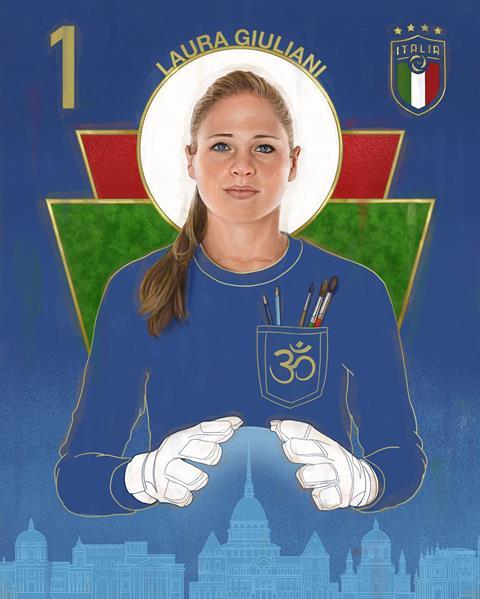 Laura Guiliani – (illustration by Kevin McGivern) Italy
• Italy's number 1 goalkeeper
• The 'om' symbol on her shirt is a reference to her love of yoga.
• Drawing pencils and brushes in her pocket as she has a passion for art / draws/paints in her spare time.
• Plays for Juventus so we have the Turin skyline at the bottom.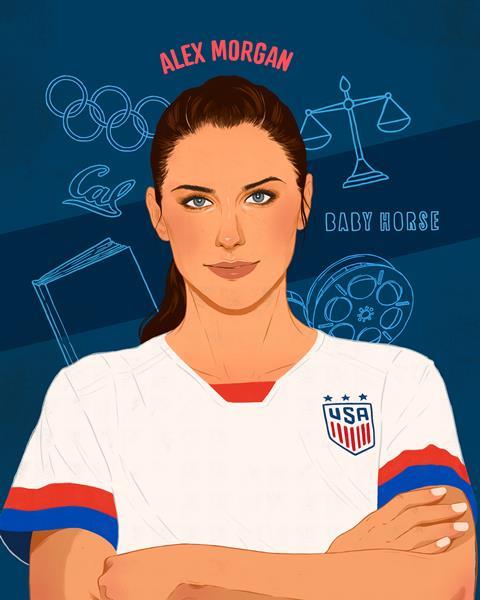 Alex Morgan – (illustration by Suzanne Dias) USA
• Olympic Rings - Morgan is an Olympic gold medalist.
• Scales - Morgan vocal civil right activist, does a lot of philanthropy work. Including being the first female footballer to sign up to the Common Goal campaign, in which players donate 1% of their wages to football related charities.
• Book - Morgan has written a series of children's books aimed at inspiring young girls.
• Film - last year made her acting debut, starring as herself in a fictional feature length film Alex & Me.
• Cal - began her career at the California Golden Bears at the University of California.
• 'Baby Horse' - USWNT team-mates affectionately nicknamed Morgan "Baby Horse" - a nod towards her style of running.
There are different release dates for the illustrations of each of the 50 players. The first was revealed on 18 April – 50 days before kick off on the first game of the World Cup, and there's been one released every day since then. The illustrations are being revealed across all of Copa90's media platforms.