The United Way will premiere on Sky Documentaries and streaming service NOW from 24 May.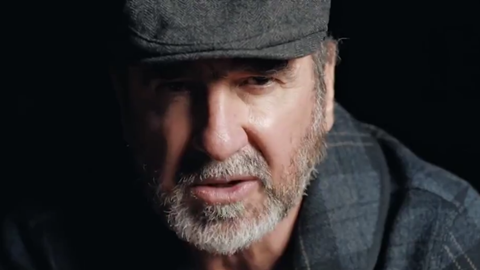 An Eric Cantona fronted documentary film about Manchester United, The United Way, is set to release on Sky Documentaries and streaming service NOW on 24 May.
It will also come out on DVD and Blu-ray from 10 May.
Narrated and co-written by Cantona, the documentary will feature archive footage as well as many figures from Manchester United's past - including David Beckham, Ryan Giggs, Bryan Robson, Brian Kidd, Teddy Sheringham, Nicky Butt, Peter Schmeichel, the late Tommy Docherty, plus current manager Ole Gunnar Solskjaer.
Non-footballing figures will also feature, such as music icons Shaun Ryder of the Happy Mondays and Peter Hook of Joy Division and New Order, and political figures Lords Heseltine and Kinnock.
A Sky Original documentary, it will chart the history of the club from the 1958 Munich air disaster to the 1999 treble-winning season. Mat Hodgson is directing, with BAFTA-winning composer George Fenton working on the score, and the producers are Matthew Lorenzo, Daniel Glynn, Andrew Baker and Patrick Nathanson.
It was commissioned for Sky Documentaries by Zai Bennett, managing director of content, Jaime Morris, director of programme strategy and negotiated and executive produced by Jack Oliver, head of co-productions, Sky Entertainment.
Ingenious Media presents the documentary, in association with Ad Hoc Films, Embankment Films and Cantilever Media, with participation of Canto Bros Productions.
Producer Matt Lorenzo revealed a teaser video on Friday.
When the seagulls follow the trailer, they get a Matthew Lorenzo production of a Mat Hodgson film. The United Way. With Eric Cantona. Coming Soon. pic.twitter.com/daxdoSQFG7

— Matt Lorenzo (@lorenzomatthew) April 9, 2021