Eurosport 1 HD and Eurosport 2 HD will be added to DAZN subscriptions across its European territories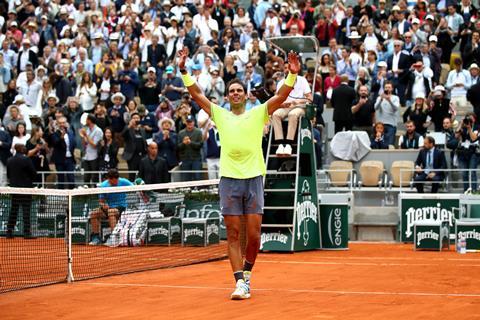 Key Eurosport channels are coming to DAZN in Germany, Austria, Italy and Spain under a new partnership agreement between DAZN and Discovery.
From 1 August, DAZN subscribers in these territories will now have access to Eurosport 1 HD and Eurosport 2 HD, including Grand Slam tennis (pictured above), Grand Tour cycling, motorsport and the Olympic Games. They receive both the live channels and on-demand content from both Eurosport 1 HD and Eurosport 2 HD.
As part of the agreement, DAZN has sub-licenced 45 Bundesliga matches from Discovery in Germany and Austria, including matches on Friday nights, Sundays, Mondays and relegation play-off matches from the 2019/20 and 2020/21 seasons.
John Gleasure, chief business development officer at DAZN Group, said: "This is an exciting agreement that brings Eurosport's incredible sports content to our subscribers, and delivers 45 Bundesliga matches to the DAZN service in Germany and Austria under a two season exclusive sublicensing agreement. This deal underlines our commitment to providing the biggest and best sports action to fans in an accessible and affordable way , while rewarding rights holders for integrating their content on our market leading platform. We look forward to developing our partnership with Discovery."
James Gibbons, head of commercial development for EMEA at Discovery, added: "We're delighted to enter this partnership that expands the distribution of Eurosport's channels in four European markets. We always look for new partners that help get our brands and content to more fans. In parallel we will continue to develop and market our all access multi-sport OTT service - Eurosport Player - for fans who want a deeper experience."