All 12 sides will feature in the opening five rounds of TV games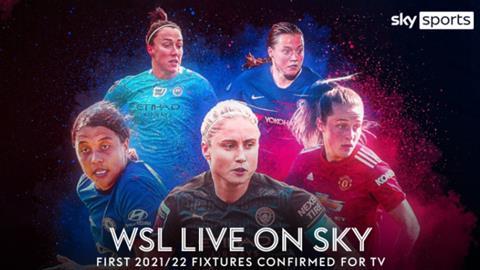 Sky Sports has revealed the Women's Super League fixtures it will broadcast in the opening five rounds of action.
After sealing a three-year deal for the league in March this year, the first time the competition has completed a commercial broadcast deal, Sky Sports is to air all 12 teams in the first five rounds of fixtures.
Coverage will be presented by Caroline Barker, with pundits including Karen Carney giving analysis. At least 35 matches-per-season will be broadcast for the next three campaigns.
The very first match of the season will be Manchester United v Reading at 6.45pm on Friday 3 September, which will be joined on TV during the opening weekend by defending champion Chelsea facing 15 times top flight winner Arsenal, which last won the title in 201.
Manager Emma Hayes almost led the Blues to a famous treble last season, winning the Super League and League Cup but falling agonisingly short to Barcelona in the Champions League final.
Other notable clashes in the first few weeks of action include Manchester City facing Tottenham at the Academy Stadium on 12 September, at 6.45pm. There is also Arsenal v Manchester City at 6.45pm on 26 September, and recently promoted Leicester City against Chelsea on 10 October at 12.30pm.
Gary Hughes, Sky Sports Director of Football, said: "We're thrilled to be showing the Barclays FA Women's Super League for the first time on Sky Sports this season. Each of the 12 competing teams will be live on Sky in the opening five rounds of matches, so we have a very exciting few weeks ahead, and we can't wait to get started."
SKY SPORTS WSL LIVE MATCHES
ROUND 1
Sept 3 – Manchester United v Reading (6.45pm), Sky Sports Premier League
Sept 5 – Arsenal v Chelsea (12.30pm), Sky Sports Premier League
ROUND 2
Sept 11 – West Ham United v Aston Villa (11.30am), Sky Sports Premier League
Sept 12 – Manchester City v Tottenham (6.45pm), Sky Sports Football
ROUND 3
Sept 25 – Everton v Birmingham (11.30am), Sky Sports Premier League
Sept 26 – Arsenal v Manchester (6.45pm), Sky Sports Football
ROUND 4
Oct 2 – Chelsea v Brighton (11.30am), Sky Sports Premier League
Oct 3 – Birmingham v Manchester United (6.45pm), Sky Sports Football
ROUND 5
Oct 10 – Chelsea v Leicester City (12.30pm), Sky Sports Premier League
Oct 10 – Arsenal v Everton (3.00pm), Sky Sports Premier League