Demos highlight how remote production of sporting and live events is set to be transformed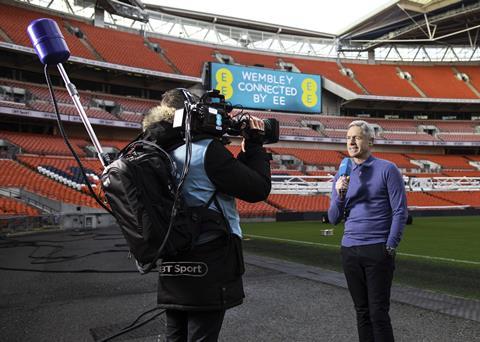 5G is set to revolutionise the remote production of sport and live events following a series of successful tech demos by BT Sport and EE.
The sister companies used EE's nascent 5G network at Wembley Stadium to showcase how 5G 'network slicing' can be used to reserve network space and guarantee latency, bandwidth and streaming quality.
It creates a broadcast-grade network for live broadcast that provides a reliable data connection irrespective of how many people are using the network at the same time.
The possibilities for 5G to enable high-quality, reliable, live, multi-camera streaming for remote productions was demonstrated by BT Sport and EE on numerous occasions last week.
The broadcaster and telco team's first demo of 5G remote production was a live, two-way broadcast from Wembley Stadium to London's ExCel Centre, during the Global Mobile Broadband Forum last Wednesday.
The broadcast was carried over EE's test 5G network in Wembley Stadium to BT Sport's production hub in Stratford, East London, where it was vision mixed and broadcast live to ExCel.
There was noticeable latency during the live broadcast, with a short but evident delay between a question being asked from the stage at ExCel and it being heard by the crew at Wembley Stadium. However, the live images broadcast to a series of huge screens at ExCel were consistently high quality throughout the demo.
Sporting first
The following day, during Broadcast TECH's Sports Tech Innovation event, BT Sport once more demonstrated a two-way 5G live link, with BT Sport chief engineer Andy Beale showing live 5G footage from eight camera feeds on the big screen at BT Sport Studios in Stratford.
Then, at 2pm on Sunday, BT Sport aired what it called the "world's first live sporting event to be broadcast over 5G using remote production". This was the EE Wembley Cup 2018, featuring YouTube's biggest footballers and a number of football 'legends', which was broadcast live from Wembley Stadium to YouTube over EE's 5G network.
Following the first 5G remote-production demo, BT Sport director of mobile strategy Matt Stagg explained: "5G network slicing enables you to segment parts of the network and get a guaranteed 100mb/s. You can then be confident the broadcast will be high quality and won't need a satellite back-up. The agile nature of the 5G space is something that doesn't exist with 4G."
BT Sport chief operating officer Jamie Hindhaugh added: "5G opens up radical and exciting possibilities. You have the freedom to move cameras around and capture shots you couldn't have shot before. With network slicing, 5G becomes virtual fibre. It's the latest milestone, following remote production over fibre and 4G."
All of BT Sport and EE's live 5G remote-production demos were in HD, but Beale said the amount of bandwidth offered by 5G means that "4K remote production is very possible" over a 5G network.
The first stages of the 5G rollout are happening now, with major telcos in the UK currently creating small-scale 5G test sites in various locations across the UK. They have committed to a broader 5G rollout by the middle of 2019, when the first 5G smartphones are expected to become available.
EE said it will be continuing the rollout of 5G at Wembley Stadium throughout next year and will also launch 5G in 16 UK cities by the end of the year.
In tandem with this, BT Sport said it intends to use remote production over 5G to increase the coverage available to viewers, adding more matches and creating highlights faster than before.
Hindhaugh said: "Next season, 5G will enable BT Sport to deploy the most advanced remote production of any broadcaster. It will allow us to cover more live matches from more leagues and competitions, and to bring fans highlights action closer to the final whistle than has ever been done before in the UK."