Broadcaster makes BT Sport accessible on the big screen via Apple TV, Samsung TVs and the Xbox through its new app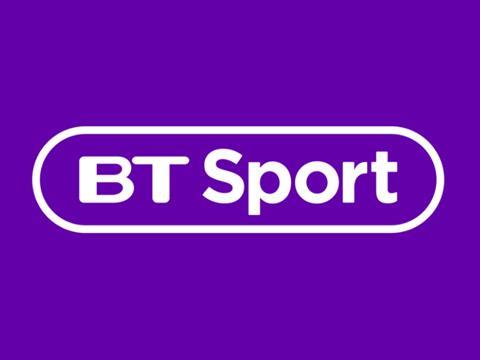 BT Sport has extended the reach of BT Sport with a new app available for the first time on Apple TV, Samsung TVs and the Xbox. It kicks off with streaming at 1080p and 50fps with 4K UHD and high dynamic range (HDR) picture quality "to follow".
The app is available on the platforms to existing BT Sport customers at no extra charge, providing access to BT Sport 1, BT Sport 2, BT Sport 3, ESPN, Boxnation and the BT Sport Extra channels.
Later in the year, the app "for big screens" will also include on-demand content, highlights, TV listings, and, the BT Sport 4K UHD channel.
This provides an additional way to access BT Sport's 4K content on TV, rather than requiring viewers have the BT TV set-top box.
The app also enables BT Sport customers with a digital subscription to watch BT Sport on the big screen for the first time. The free app is available via the app stores on Apple TV, Samsung Smart TVs and Xbox. Existing customers can use their BT Sport subscription login to view content.
It will cost new customers £9 per month with BT Broadband. EE customers on a Max plan can get BT Sport from £10 per month.
BT Sport says "further exciting enhancements" to the app are planned, with 4K UHD and HDR scheduled for later this year, along with object-based broadcasting, which will make it possible for viewers to control some aspects of programmes such as audio or graphics.
Object-based broadcasting could enable fans to control stadium and crowd noise levels versus commentary, and, for blind or partially sighted viewers, provide access to Audio Description of live sport. BT Sport is also trialling a private video chat service that enables fans to have real-time video chats with up to three friends while watching BT Sport in the same app.
For daily broadcast sports stories, covering sport production, distribution and tech innovation, visit Broadcast Sport and bookmark the Broadcast Sport homepage, http://www.broadcastnow.co.uk/sport
At the launch event for the new app, BT Sport COO Jamie Hindhaugh said: "4K is important to BT Sport, as is HDR and object-based broadcasting. There's more to come here."
BT Sport head of engineering Andy Beale also used the event to demonstrate Dolby Atmos immersive audio using headphones with a mobile device, which was made possible through object-based broadcasting, and is something that could come to the BT Sport app in the future.
Marc Allera, CEO of BT's consumer division, said: "We're creating even more ways for our customers to watch their favourite sport in stunning high definition, wherever they are. We're working to offer our customers unrivalled choice, with the best content, the smartest devices, and the latest technology, through partnerships with the world's most innovative companies."
The new BT Sport app
Available platforms
• Samsung Smart TVs (2015 models onwards)
• Apple TV (Fourth generation devices onwards)
• Xbox One (One, One S and One X consoles)
Key features
• BT Sport's five live TV channels, plus BT Sport Extra services
• Full HD (1080p up to 50 frames per second)
• 4K UHD, TV listings, highlights and on-demand launching soon
• Additional platforms and further personalised services to follow
How to get the app – existing BT Sport customers
• Existing customers benefit at no additional cost
• Download BT Sport from app stores on these platforms
• Log in using existing BT ID and password