From Louis Theroux to Mark Kermode, this year's trade show is attracting prominent speakers as the event expands its seminars to support the Excel-based exhibition.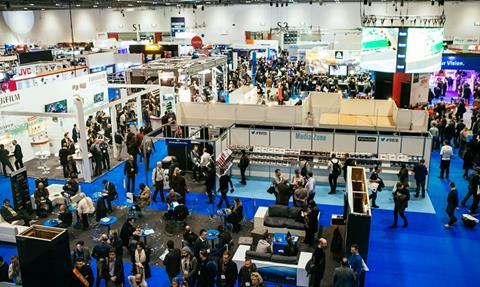 Broadcast technology exhibition and conference BVE has evolved in recent years to also cover the connected media, AV, integration and live sectors.
This year, event organiser Ascential anticipates attendance by some 15,000 people, who will be looking to learn about the latest products, services and industry trends from around 300 manufacturers and kit suppliers.
BVE takes place Tuesday 28 February to Thursday 2 March
Production and acquisition
AJA (K23) will be showing off its new standalone Helo H.264 streaming and recording device.
Helo will be displayed alongside RovoCam, the company's Ultra HD/HD compact block camera, offering control power via an HDBaseT interface, and companion receiver RovoRx-SDI, with 4 x 6G-SDI outputs.
BoxIO is being launched by Flanders Scientific (E23) for both post and on-set colour management. It offers, among other things, simultaneous support of 3D and 1D LUTs and dual-channel mode operation (making BoxIO two LUT boxes in one device).
Also on show will be DM240 and DM170 colour critical production monitors, featuring native HD 10bit LCD panels covering 99% of the DCI P3 colour space.
Axon Digital Design(G44) is bringing to the UK its AZilPix Studio.One, a virtual camera system for live video capture and streaming.
It can mix cameras with wide angle and/or fish-eye lenses to capture every aspect of a live event from multiple angles.
The company is also unveiling the NIO440, an 8-channel bi-directional Ethernet/SDI bridge, plus its SynView Multiview solution with support for 4K and IP-video formats.
Suitcase TV (E34), on a stand with partner Arista Networks, is featuring Iphrame Flyaway, a compact, IP-based production system. The software-based remote architecture framework combines IP, ASI and SDI signals in a portable system to provide real-time, ultra-low-latency production on the run.
Alongside its new flagship 4K camera, the EOS C700, Canon (H50) will be show casing broadcast and Cine lenses, including the new CN-E18-80mm T4.4 L IS KAS S.
Canon's new 24-inch and 17-inch 4K HDR monitors (DP-V1710 and DP-V2420) will also be on display.
To support the launch of the Hands Free Monopod and the TH-X entry-level tripod from Libec, both will feature in a daily free prize draw on the IDX stand (F20). IDX is also previewing a new Powerlink battery with a D-Tap advanced socket, and two-channel simultaneous charger VL-2000S.
New from Bluebell Opticom (E01) is the BCX-760 Series 10G Ethernet point-to-point fibre link, a camera back for easy connection and signal transport between a camera and an OB truck.
Also on show is TDM-750, a rack-mounted module for single-direction transport of HD-SDI and 100Base-T Ethernet signals, plus ShaxX, designed to provide bidirectional signalling for broadcast cameras.
A UHD/4K cable solution is being debuted on the Argosy stand (G43). Argosy's re-engineered MUDIGSA connectors and MUDIGSA video patch solution (panel, U-link and patch cord) capable of carrying UHD signals will be on show, as well as the ATEN range of KVM solutions.
Signum Bildtechnik(K13) will be demonstrating a cloud-based remote control for its new BlackHive X7 media server, plus Vision Factory, a server-based multichannel high-speed camera.
The latest version of web-based workflow automation platform Aspera Orchestrator from Aspera (K30) will also be on show.
Post and measurement
ContentAgent 3.6, being launched at BVE by Root6 ( J19), offers new broadcast delivery formats including AS-10 and ARD_ZDF, enhanced camera card formats, Avid DNxHR format support for UHD and 4K workflows, growing MXF file support, updated LUT processing and core automation features such as node prioritisation.
A new Review & Approve app from Forscene (N38) supports editing on the go, while the new Camera SDK integrates Forscene's Mobile Upload app into existing applications, allowing content recorded on mobile devices to be transcoded, uploaded to the cloud and made available on the video platform.
Digital Garage (K52) is hosting axle edit, a new multi-layer offline editor, allowing users to edit content from the axle media management software, mixed with media shot on iPads or iPhones, along with music and voiceovers.
The distributor is also showing NAS appliance Panasas ActiveStor, powered by the PanFS storage operating system for linear scale-out growth, easy management and reliability.
Also on show will be Sonnet's Twin 10G SFP+ 10GbE adapter, which adds 10Gb Ethernet network connectivity to Thunderbolt Mac and PCs.
The new SW320 on show from BenQ (Q26) is a 31.5-inch HDR monitor with features such as a 4K UHD resolution, 100% Rec 709 colour gamut, True 10-bit IPS back panel and a 14-Bit 3D LUT.
A GamutDuo feature allows users to view content side-by-side in various colour spaces on one screen.
Monitoring devices on display on the RTW stand (K45) include the TouchMonitor TM7 and TM9 series with new firmware version 6.0, which offers up to four parallel instances of its stereo vectorscope, allowing simultaneous monitoring of transmission streams.
New HEVC and 4K support has been integrated across products from Interra Systems (N29), including Orion real-time content monitoring and video analysis systems, Vega media analysers, and Baton automated, filebased QC
Audio
Distributor Aspen Media (F30) is hosting Smart Audio from Junger Audio, which offers adaptive guarantee audio processing for live audio control and management.
JLCooper's Proton, a compact, low-cost video switcher control surface for Blackmagic ATEM, has its UK debut, as does the modular Stage Tec Crescendo Platinum, a 60cm-deep mixing desk offering a minimum of eight to a maximum of 56 channel strips.
Also on display will be the ARG Quarra 10100 PTP Smart Ethernet switch, designed for use in AoIP and VoIP networks, and a simple routing control for the M.1k2 MADI router from DirectOut.
The Tac System VMC-102, a multi-stem and 32 monitor-bus monitoring system for consoles and workstations mixing for Dolby Atmos or MPEG-H, will also be on show.
Making their debut on the HHB stand (K45) will be Vicoustic's acoustic treatment panelling and products, alongside products from Avid, DAD/ NTP Technology, Genelec, IPE, iZotope, Nugen Audio, Røde, RTW, Wohler, Yellow Technology and Zoom.
Mandozzi's (E43) new compact mixer, Cimix, featuring a solid aluminium console with 12 motorised faders and a multipurpose touch screen.
Also on show will be the BEA3X multi-purpose router, offering plenty of I/O interfaces including AES67, and the IPVOX standalone hardware codec that allows a redundant audio stream over IP, wi-fi , 3G, POTS and AES67.
BVE: the best keynotes and conference sessions
BVE is ramping up the conference side of the show, with 120 hours of sessions taking place, including a content and craft-focused seminar programme and some star-studded keynotes.
Virtual reality (VR) has a greater presence this year, including BBC Earth showcasing three VR experiences using Oculus Rift and Samsung Gear VR.
A Tuesday keynote, with film critic and presenter Mark Kermode and Baftawinning writer/director Amma Asante, will explore writing a winning screenplay, while multi-awardwinning lighting designer Tim Routledge will host From Studio to Stadium, a presentation on contemporary lighting design.
Kermode is back for the BVE keynote, An audience with Dexter Fletcher, where he will discuss challenges and inspirations with the British film-maker.
Other Tuesday highlights include a keynote from Figs Jackman, head of global development at Spring Films, on selling cinematic documentary films to Netflix, and Storytelling in 360°, in which an expert panel will share their insights on how to light and shoot to create an immersive VR experience.
Cinematography for Animation is a keynote session on Wednesday with Tristan Oliver, DoP on Chicken Run and ParaNorman.
BBC1's John le Carré adaptation The Night Manager will be the subject of a keynote by its executive producer Simon Cornwell.
Other sessions include 10 crucial tips for millennial audience engagement from Ian Moore, content director for The- Lad Bible Group, while in the Lights, Camera, Action session, Bafta-winning producer Mark Herbert will share tips for getting a film made.
The show will end on a high note, with an appearance from Louis Theroux on Thursday morning. In his keynote session, the documentary fi lm-maker will discuss the highs and lows of his career and provide insight into the workings of the factual TV industry.