Caitlin Moran has branded the lack of female working class British comedies "shameful" after Channel 4 cancelled her Raised By Wolves sitcom.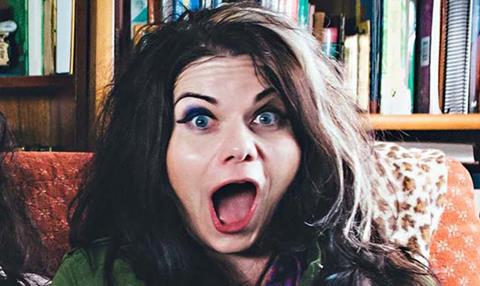 Together with her sister Caroline, The Times columnist has written a third series of the Big Talk-produced show, which was scrapped by the broadcaster earlier this week, and is confident of getting it into production after launching social media campaign #upthewolves.
Moran told Broadcast's Talking TV podcast: "We were very aware it was the only sitcom about and written by working class women in Britain, which is pretty shameful given that the working classes are the funniest of all of the classes."

She highlighted the difficulty for working class youngsters to enter the TV industry, compared to the middle classes "whose dads own a production company or work for Channel 4".
However, she added she had faced bigger challenges than having a show axed.
"The first stage of grieving when you've had your sitcom cancelled is to usually go down to Soho House and bitch about it to other people who have had their shows cancelled," she said.
"But we're working class girls who have lived in a world where we had to bulk out our bolognese with frozen peas and kill rats in our bedroom with our shoes so the cancellation of a show compared to what we went through in our childhood is actually quite small beer."
Wolves death
Raised By Wolves was "killed" after two series; the first run averaged a consolidated audience of 1.3m (6.3%) while the second series pulled in 1.2m (6.2%).
It opened in a Monday 10pm slot in March 2015 with 1.8m and is C4's third most-popular comedy since January 2015, ahead of the likes of Catastrophe and Friday Night Dinner.
Moran said she was told about the decision not to commission a third series last week. "Channel 4 said it hadn't done as well as they had wanted it to do, which was a surprise to us because in that slot it outperformed everything else."
The How To Be A Woman author said that she was particularly proud of the show's mainly female crew, led by producers Kate Crowther and Caroline Norris.
Raised By Wolves tells the semi-autobiographical story of the Midlands upbringing of Moran, with Helen Monks starring as the fictional Germaine Garry.
"Germaine is 16 years old and she's been horny for about three years, we can't end the series with her still a virgin, so we fight on to let her lose her cherry," she added.
Caitlin Moran appears as part of this week's Talking TV podcast
The full edition will be published later today