Veteran broadcaster close to joining PSB for weekly politics show
Channel 4 is lining up Andrew Neil to front a weekly political analysis show, Broadcast has learned.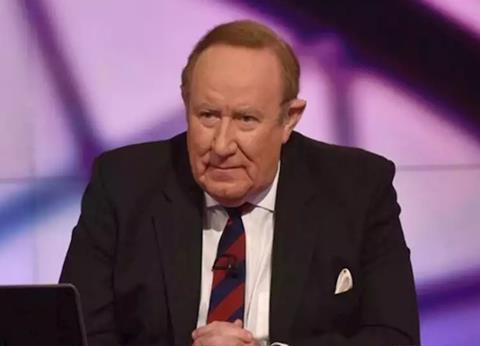 The veteran interviewer has been in discussions with director of programmes Ian Katz and director of news and current affairs Louisa Compton following his short-lived spell at GB News.
An agreement is yet to be reached but the broadcaster is understood to be eyeing a Sunday evening slot for the show.
C4 News airs an early evening Sunday bulletin, most often for 30 minutes at 630pm, which could be followed by the analysis programme. The bulletin is currently watched by 600,000 (4%).
A Sunday morning slot is off the cards due to a reluctance to clash with BBC1's longstanding 9am political format The Andrew Marr Show, which is currently being helmed by Sophie Raworth until a permanent successor for the departing Marr is found.
Sky News also has a high-profile Sunday morning political show, Sophy Ridge on Sunday, which is currently being hosted by Trevor Phillips.
The early evening scheduling would enable Neil to provide analysis of the political appearances on rival shows earlier in the day, as well as featuring heavyweight guests and look ahead to the coming week.
A production business is yet to be attached, though ITN is thought to be in pole position due to its existing contract to produce C4 News.
C4 declined to comment.

Securing Neil on a regular basis would be a coup for Katz, who was editor of Newsnight and Guardian deputy editor before joining the broadcaster. Neil is already fronting C4/ Rogan Productions' fast-turnaround single Boris Johnson: Has He Run Out Of Road, which was commissioned by Compton and will air this Sunday (30 January) at 6.45pm, following C4 News.
BBC director general Tim Davie is known to be a fan of Neil and was reported to have tried to lure him back to the corporation after he stepped back from GB News.
BBC2's The Andrew Neil Show, which aired on Wednesdays at 7pm, was scrapped in 2020 as a result of a wider BBC News shake-up, prompting Neil to defect to GB News.
That relationship started strongly, with Neil's launch show drawing in a peak of 300,000 (2.3%) to outperform BBC News and Sky News. However, a litany of production errors led to his dramatic departure after just three months.