Challenges of filiming with a Major Crime Unit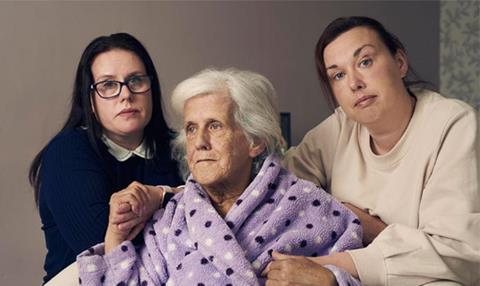 Production company True Vision
Length 1 x 105 minutes
TX Channel 4, 9pm, 1 June
Shooting producers Erica Gornall; Jennifer Shaw
Director Anna Hall
'Get to Milton Keynes custody now. There's a woman missing and her partner has been arrested.' That call sparks a massive operation as the on-call film rota kicks in and cars, cameras and people scramble. Most details are not given out; it is highly confidential, and there is no time.
This is the life of the Major Crime Unit at Thames Valley Police, where every minute counts and the police need to gather a team. I need to get to custody as soon as possible and any other information would need to come through as I'm driving. They can't wait for us: if we are not there we miss it.
Filming with the police means that you need to live their lives as much as possible. It turns out that the lifestyle of a detective here involves early starts, long adrenaline -fuelled hours into the next morning, a sporadic and sparse diet of anything that fits into a polystyrene box and working to the constant pressure of the clock.
The ticking timer is the countdown to custody deadlines, the window to gather evidence, and the ability to charge
As film-makers, who tend to be notoriously tardy with time, we had to acquire police discipline fast. When, early on, we turned up two minutes late for a meeting (pretty good going, we thought), we were confronted with a massive team who had got there at least 10 minutes early in order to start on the dot.
Cue amused looks as we hurried to get set up. 'This isn't TV time,' came the quip from across the room. Lesson learnt. Time to join the team.
In this case, the interviewing officers Dale and Wendy welcomed me as they prepared to delve into the key evidence ahead of interviewing Paul Hemming, whose partner Natalie had gone missing and no one had seen her since. After acting suspiciously with police, he was arrested.
Gaps had already started to appear in his story – his car had been seen out over the night his partner went missing and yet he insists he was in bed all night. The children heard a crashing sound. A rug had disappeared.
The interviewing officers let me into their world and discussed openly all of their thoughts.
'This is dreadful', exclaimed Wendy as she looked through a child's statement and taking in the magnitude that these children had lost both parents overnight. But there is little time for reflection; minutes later, they are on their way to see Paul.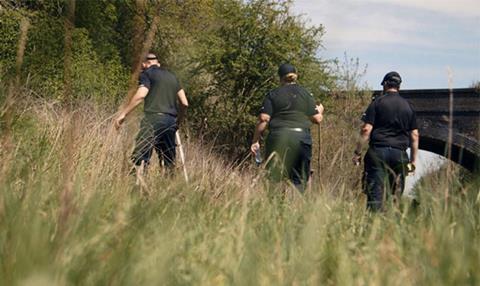 Given the tensions with Paul and the need for police to find Natalie, I held back filming until he was being charged and there was no more interviewing to be done.
With this intensity of filming and with something happening constantly, the real skill in filming this is to make quick decisions on what to film. By filming one thing you miss another. These moments can't be filmed again. Any time not filming is spent talking to the officers and finding out quickly what is coming up next.
Understandably, because they unfortunately investigate murders every day, it is common for them to come back from something you desperately wanted to capture and reveal they've just done that.
The knack is to stay on top of developments or even plan ahead to see if something they see as routine is actually really important and eye-opening for the viewer.
Dale, Wendy and I got on really well and I was given a good heads-up, helped along with teas and sandwiches purchased in the moments of downtime.
It sounds trivial but we all start work at 7am and during interviewing, there may not be a chance to eat or get anything before midnight. Cue the fast-food: the sustenance for the officers to push on through and find out as much as possible about where Natalie is when every minute counts.
The search took weeks – and although it's a case with a resolution, the reality on the ground as the days went by could not be more different.
Each day was a different search in an area so vast it would have taken months to search the whole lot. It felt overwhelming and there was nothing to predict they would definitely find Natalie. Morale ebbed and flowed, but the drive continued.
It was the hottest weeks of the year, in claustrophobic sweaty scene suits and with heavy equipment, as we searched rough terrain through thick woodland full of brambles.
Me and the other filmers were there the whole time, experiencing the optimism, the challenges, the grit and the disappointments – all to find a woman who disappeared without a trace.
Jenni Shaw
Shooting producer
Friday 6th May. Bubbly 31 year-old mum of three Natalie Hemming has been missing for five days.
In the Major Crime Unit, each new day brings a new and longer list of frantic actions. But for an ordinary family in Hemel, it's a very different story: another sleepless night, another day of painful waiting.
"They're such a lovely family," says family liaison officer (FLO) Nikki Smith as she and colleague Natalie Golding drive me to mum Margaret's house in their unmarked police car. Little did they or I know at that stage that I would more or less take up residence in the back of that Vauxhall estate over the coming weeks and months.
Despite being in this horrendous abyss, Natalie's siblings had agreed to meet director Anna Hall and me. On pulling up, Anna goes inside to introduce us and I wait anxiously in the car with my camera. We have no idea if we will be turned away.

Incredibly, after a few minutes of passionate explanation by Anna, they wave me in. It's the start of one of the toughest but most rewarding films I have worked on to date.
Although I'd been shooting the first few days of fast-paced police action using an EasyRig, we decided this might be a little
Natalie's siblings had no idea what news the FLOs had come to deliver that day but they waited patiently until I was ready to film. It turned out it wasn't good news at all: this is no longer a missing person enquiry but a murder, the kind of news no family should ever have to hear.
Despite this earth-shattering development, we were made to feel more than welcome. A constant stream of cups of tea and worried neighbours quickly indicated that this was a house always open to visitors, full of love and laughter.
We didn't meet Natalie's mum Margaret on that first visit – the disappearance of her youngest daughter was still sinking in. But as the search for Natalie stretched out from days to weeks, I would become one of the regular visitors to her family home.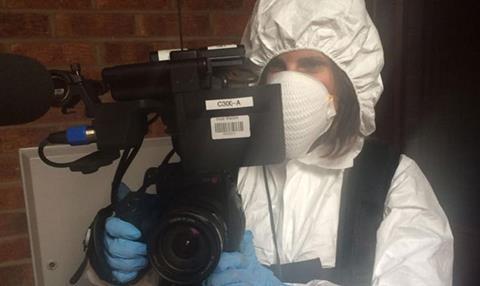 Cigarette in hand, she always greeted me with an affectionate hug and a smile, as the FLOs returned with more questions and more bad news. But the worst news had not yet come and we were on call day and night until the call came on Sunday 22nd May.
A young woman's body had been found in a ditch on a country road near Watford. I knew immediately it had to be her. Now the FLOs needed to go and deliver the news to Margaret.
Anna Hall and I had talked in advance about how I might film this moment if and when it did happen. Margaret had been incredibly generous in letting us film some very tough times but it was important for me not to overstep the mark at this shattering time. My plan was to film at a distance through the window and roll for sound.
Unexpectedly, as I arrived with the FLOs and brother Sean on that fateful morning, Margaret was instead sat outside enjoying the rare sunshine. I knew what was coming but she didn't.
As they broke the news, I hung back at the gate, wanting to give her some privacy behind the manicured rose bushes now fully in bloom.
"She's in our care now and we will look after her- we can finally bring her home to you,"says Nikki, crouched down and holding Margaret's hand.
It hit home to me at that moment that Natalie was just a few months older than me when she went missing. No doubt she had similar hopes and dreams for a happy and fulfilled life. It's hard not to take an investigation like this home with you.
It would have been much more difficult to reach the level of trust and openness required to capture these incredibly private and difficult moments without the FLOs' support. From day one, they embraced and passionately supported the motive for our film, becoming an advocate for us amongst family and friends and carefully facilitating contact right through to the trial.
More than anything, however, a film of this impact would never have been possible without the bravery and openness of Natalie's family, courageously allowing us into their lives at the worst possible time.
That day when they first opened the door to us and every day after that, they made a choice. This was no longer just about them, but about trying to prevent other families from ever having to go through that same pain and loss.
To have been a witness to this was both an incredible responsibility and a privilege, one which we as filmmakers should never take for granted.