Director of programmes must be given time to show his mettle
Brilliant or bonkers? That's the question being widely asked following the appointment of Ian Katz as Channel 4's director of programmes.
It's easy to understand why. By all conventional measures, it's hard to see how he is qualified: he has never made a regular programme, ordered a series, picked out marketing priorities or planned a schedule.
When he needs to decide whether to trim C4's entertainment budget or hand drama a boost, he is going to have little frame of reference to fall back on.
But Katz has attributes that will stand him in good stead. He has plenty of gravitas and is used to close scrutiny – Newsnight is one of the (very few) shows that MPs are known to watch in numbers.
Plus, he has a willingness to push stories hard. The Guardian's stance on phone hacking or Newsnight's coverage of the Grenfell Tower fire (he is apparently particularly proud of the 21st floor film) spring to mind.
Expect C4 under his leadership to have plenty of bite and a desire to cause trouble with a purpose. That will chime nicely with many in the production community.
What might be challenging is that Katz is unlikely to get the kind of honeymoon period afforded to well-known execs with track records of TV success.
"His clean slate offers a chance to redefine producer relationships and implement a different way of working at C4"
When Kevin Lygo or Ben Frow take a new job, they are given time because people broadly understand how they operate and have faith in their methods.
If the first big comedy under Katz flops, he won't be able to reassure his team because he has a Fleabag on his CV. Or if C4's share of young viewers dips, there won't be the calm assurance from knowing that he has previously delivered a Love Island.
But his clean slate offers a chance to redefine producer relationships and implement a different way of working at C4.
Devolving power to commissioners is easy to say and hard to do, but it is clearly on chief executive Alex Mahon and Katz's agenda.
There is a stultifying familiarity to the names quickly bandied around when one of the industry's top jobs is up for grabs, and frequent calls for decision-makers to look beyond the obvious candidates.
Mahon has done just that, hiring someone she deems brilliant, innovative and collaborative. But especially with C4 in a state of flux, and with relocation still to be worked through, Katz's appointment represents a very big, very calculated gamble.
Katz should be given time to prove himself – but he has got plenty to prove.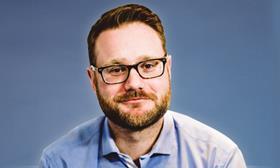 Chris Curtis is the editor of Broadcast