Cheap, Cheap, Cheap was born when Noel Edmonds convinced Hat Trick managing director Jimmy Mulville to play a guessing game over an impromptu lunch.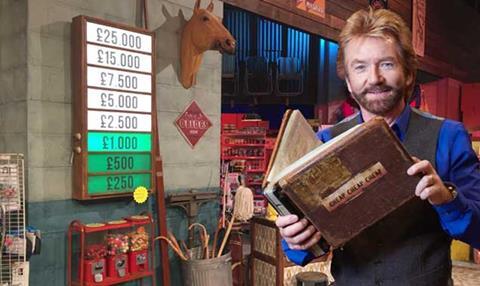 Producer Hat Trick Productions
Distributor Hat Trick International
Length 30 x 60 minutes
Broadcaster Channel 4 (UK)
Edmonds produced three cards showing three objects and Mulville had to figure out which was the cheapest to buy. "I was immediately engaged in trying to work it out," Mulville says.
Edmonds told the Have I Got News For You producer that he didn't want it to be a traditional gameshow, but to make it a "mad comedy and cast of characters". "I felt like everything I knew about television was being challenged," Mulville says.
After agreeing to develop the idea, Hat Trick built a studio and filmed a pilot inside a recreation yard in Somerset – a site "full of extraordinary things, from garden furniture to rocket launchers".
The game is set in a fictional store owned by Edmonds and staffed by a disruptive cast of comedy characters.
Two contestants are selected from the audience and tasked with guessing the cheapest item from a random selection of three.
"The show doesn't take Noel too seriously and at the centre of it is a very clever and engaging game," Mulville says. The result, he adds, is an "innovative hybrid show".
After seeing the pilot, Channel 4 moved quickly to order a 30 x 60-minute daytime series.
Mulville is confident that international broadcasters will be interested in the show for their own "national treasures". "Every territory has a presenter like Noel and it's the perfect format to give them," he adds.
Hat Trick International director of sales Sarah Tong admits that "comedy is definitely the hardest thing to sell", but hopes that the "very visual slapstick" of Cheap, Cheap, Cheap will translate well with other territories.
"This show mixes gameshow and comedy and broadcasters are always looking for something different. It's a familiar genre and a simple game that can be picked up quickly."
Tong says the show has received strong interest ahead of Mip TV. "It will certainly work in territories like France, Italy and Spain. We're taking it to market with an open mind of where we sell, but we're focusing on Europe."