Executive producer Adam Tandy lifts the lid on the delicate staging of BBC Studios' elaborate hoax
The ghosts were always there from the beginning.
The stories of mysterious happenings at Granada went around as we were recording The League of Gentlemen in Manchester last November. But when Steve Pemberton and Reece Shearsmith delivered their script for Inside No. 9: Live one fine Spring morning, I had no inkling of the epic voyage we were undertaking.
The first step was to investigate the archives, for without proof of the ghosts' existence; who would ever have believed us? Archive producer Jackie Ramsamy dug up the testimony of the poor souls who had previously encountered the studio apparitions and gained permission from them, or their next of kin.
"An ancient, unexploded bomb was discovered outside the Granada Studios on the day we were due to build our set. Somebody, or something, was definitely trying to send us a message."
We also needed a base of operations for our investigations. For a while, we seriously considered a live OB from the actual studios at Quay Street, now in the hands of a property developer. However, it soon transpired that the lack of electricity, and their imminent plans to excavate the huge graveyard lying under the main car park, would make for a risky affair.
Our consequent decision to install ourselves in Maidstone in Kent was vindicated by the discovery of an ancient, unexploded bomb outside the Granada Studios on the very day we were due to build our set. Somebody, or something, was definitely trying to send us a message.
Technical set-up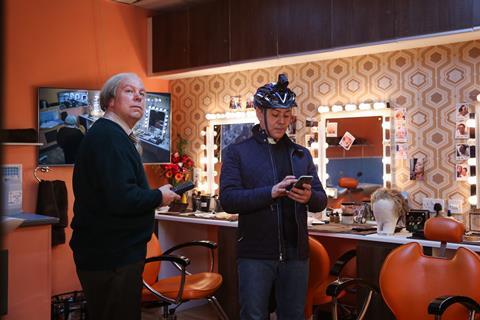 Studio 2 at Maidstone provided a perfect location for us, having plenty of history of its own. We brought in five studio cameras and installed a fixed rig of four Q-Ball mk3 cameras to cover the backstage areas of the studios, under the direction of camera supervisor Paul Freeman.
We rigged two wireless-linked helmet-cams (to detect both normal and infra-red light) from Broadcast Sports International to enable Mr Shearsmith to blunder about in the dark.
On the first evening, we discovered some mysterious timing/sync issues with the fixed rig, which the staff at Maidstone worked through the night to investigate and solve.
Installing a Symphony on-line suite in another part of the building allowed us to gather together all our evidence, some effects prepared in a Flame suite at Envy and some pre-recorded 'rehearsal footage' from our set on the Saturday.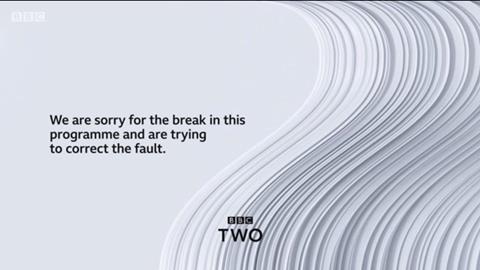 Our colleagues at BBC2 provided presentation facilities, some catchy music and also a plan to allow all four nations to have separate junction continuity from announcer Beccy Wright so that we had the same network voice throughout our programme. (Poor Beccy. Not sure what happened there.)
Meanwhile, preparations in the studio were continuing apace. We were joined in the gallery by our long-time associate Christian Henson, who played his score and atmospheric effects using an antique Prophet keyboard and two MacBooks running DAW software loaded with orchestral samples.
Interference effects were loaded into the Sony desk by vision mixer Paul Mitchell and play-in op Neil Belcher to generate deliberate glitches when needed. Further effects were provided by sound supervisor Kevin Paice, including an ingenious device to allow us to hear programme sound even though no-one else could.
By Sunday morning, shortly after some of us returned from church, our preparations were complete. Under the composed control of director Barbara Wiltshire and producer Claire McCarthy, we had sufficient time for a dry run and a further dress rehearsal, before we sat anxiously for the results of our labours to be sent to our colleagues in London and Manchester (for a simulcast to the Americas).
When the programme "fell off the air" at exactly 22:09, we apparently only lost one in five viewers. We must be grateful for small mercies. And most of us survived.
Adam Tandy is executive producer of Inside No. 9 for BBC Studios