With his new comedy set to launch on Netflix, Ricky Gervais talks to Benji Wilson about finding the humour in tragic situations –and having the freedom to do exactly what he wants
Production company Derek Productions
Commissioner Brittney Segal (Netflix)
Length 6 x 30 minutes
TX 8 March, Netflix
Executive producers Ricky Gervais; Duncan Hayes
Producers Charlie Hanson
Director Ricky Gervais
Post-houses Suite (edit); Jumbuck Film & Television (sound); Outpost (online); Narduzzo Too (grade)
On the M Stage at Pinewood Studios, Ricky Gervais is being a complete arsehole – his words, not Broadcast's. He's playing the part of Tony in After Life, his new comedy for Netflix.
The set is the office of the Tanbury Gazette, a dying local newspaper and, as the take begins, Tony is bawling out his work colleague Lenny (Tony Way) for no obvious reason. Lenny has an unsightly roll of fat at the top of his neck, says Tony, and he eats crisps like "an ovulating elephant".
Tony's other colleagues Cath (Diane Morgan) and Sandy (Mandeep Dhillon) look on in disgust, but say nothing.
Tony's attitude, it turns out, is a stratagem, as Gervais explains: "The whole show starts with a video diary made by my wife [played by Kerry Godliman] where she says, 'If you're watching this, I'm not around anymore', so straightaway you know that I've lost my wife.
"I tell my boss I'm going to become an arsehole like everyone else. I say, 'There's no advantage to being kind these days, there's no advantage to being polite. Why? You get taken advantage of, so fuck it, I'm going to do what I want and then when it gets too much, I'm going to kill myself '."
Working with Netflix
As premises for comedy go, it doesn't sound like the most upbeat, but Netflix liked it enough to make After Life Gervais' first original series for the SVoD giant, after spells making studio films and TV with the BBC and Channel 4.
His take on the industry and working with streaming services is not new but it is instructive: "Films? They're not winning; TV is winning. It started with HBO beating movies and it's continued with Netflix series. We want box sets now and we want to binge-watch.
"We don't want to waste £10 on a film that probably isn't life-changing when we can have three hours a night of the most amazing Scandi and European dramas we've ever seen."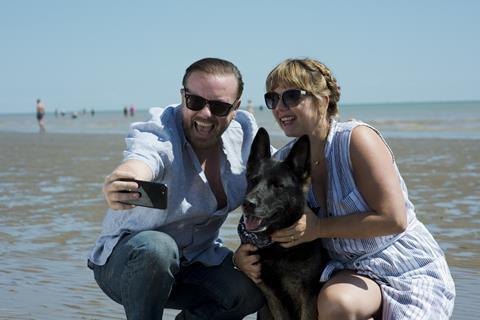 That's why he's thrown his hat in with Netflix. However, that does mean Gervais' new work will be differently received. The Christmas specials of his breakthrough mockumentary The Office and the finale of Extras on BBC2, for example, were national conversations when they were on terrestrial television.
There's plenty to talk about with After Life too, but being berthed on a streaming service rather than in a linear prime-time slot means it will land in a different way.
"I don't care anymore," says Gervais. "What I'm excited about is did it end up like I wanted it? You've got to always do what you like. Sometimes it gets to the point where you don't even want to hear good feedback because you think, 'Oh, I should do that again' – and that ruins you as an artist. You've just got to keep doing what you want."
Gervais's intention for After Life is that the consequences of overwhelming grief become something of 'a superpower' for Tony.
"For this series, the high concept came first: imagine if you didn't care about living and decided to do anything you wanted," he says.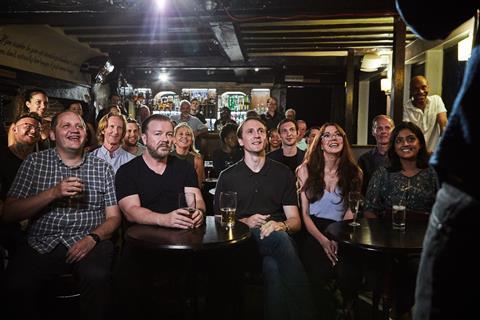 In Gervais' hands – he writes, directs and stars – that concept spirals into an amalgam of dark comedy and edgy existentialism that is akin to his Channel 4 comedy Derek, which was set in a care home.
"I've always done the big issues, I just disguise them," says Gervais. "The Office was about a man having a mid-life crisis, wanting to be famous and thinking that would sort his life out. Extras was about hapless people trying to get on in life and Derek was about what the point in living is if you don't pass kindness on. All those things are still in here, but this is probably more plot-led than anything I've done."
That plot follows the stuttering, reluctant redemption of Tony in the face of the kindness of others – this in spite of his every effort to drive those others away.
Everyone he meets across the six episodes is a quiet reminder that he could be worse off: he befriends a heroin addict (Tim Plester) because he wants to try heroin; he befriends a prostitute (Roisin Conaty) who doesn't have a house; and he tries everything in his power not to help the cub reporter shadowing him (Dhillon), yet in spite of his best efforts, her talent shines through.
"It's a really happy cast and crew. You normally get a bit of moaning from actors – but no one's moaning at all because Ricky finishes really early"
Diane Morgan
Back on set, Gervais, in tracksuit bottoms and T-shirt, offers a few notes to Dhillon, runs one more take and then moves on. For a man who is as well known in Hollywood as he is in Pinewood, the set of After Life is low key (even though JJ Abrams popped in the other day, just to say hello).
As writer, director and star, you might expect Gervais to be autocratic but Morgan confirms that's not the case.
"It's amazing how he works," she says. "He does everything but it's a really happy cast and crew. You normally get a bit of moaning from actors – but no one's moaning at all because he finishes really early."
After Life was written in workshops, with Morgan – herself a fine comedy writer – asked to contribute.
"Ricky's quite happy to take on board suggestions," she says. "Literally, we just talk about the story and chat. He takes what he thinks he can use. It's a really nice way of working."
She gives the example of a scene involving an empty snowglobe, based on an experience Morgan had while being made redundant from a worming tablet factory.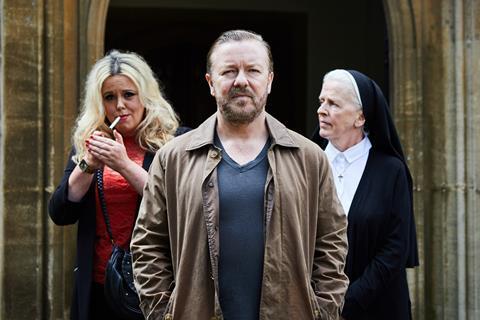 Gervais stresses that he has had final edit on his projects – full control – ever since The Office: it worked first time, so he got it the next time. He was offered slots on BBC1 but chose to stay on BBC2 so there would be less "interference".
"I went with BBC2 instead of BBC1, Channel 4 instead of ITV, HBO instead of NBC. But then Netflix comes along: zero interference and the sky's the limit… 120 million subscribers.
"Honestly, there's never been a better time to be an auteur who got their foot in the door early. A mental number of viewers, deep pockets, freedom. All I know is they keep offering me more stuff, so it must be doing okay."
Big issues
As a Netflix show, there won't be viewing figures for After Life, but what's also hard to gauge is whether a show that's about grief, death and what Gervais calls "the big issues" can still be funny.
"I've always found bleak funny," says Gervais. "I got this tweet once that said, 'Call yourself a comedian? You are about as funny as a fart at a baby's funeral'. But in my stand up I say, 'Imagine that at a funeral. Like, that's not funny?' You've set the scene, everyone's in tears; it is the bleakness that's funny. People dealing with grief is funny. You don't laugh at the time if it's happened to you, but you do in retrospect."