Facebook Watch doc examines sexual abuse scandal in the Afghan national women's team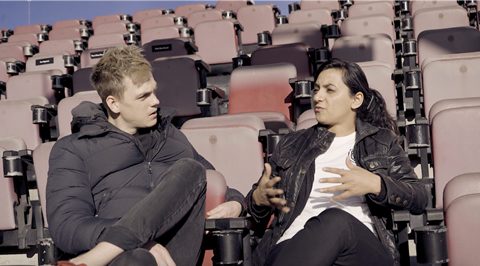 Copa90 is investigating the darker side of women's football in its Facebook Watch show The Other Half.
Host Caspar Lee examines the sexual abuse scandal that engulfed the Afghanistan national women's team - and the wider issues it raises for the women's game globally – in The Darker Side, which launches this week
The documentary features an interview with the former head of the Afghan women's football department, Khalida Popal, who reported the physical, sexual and mental abuse of Afghan women footballers by male coaches, only to be told they already knew it was going on.
She had revealed the now former president of the Afghanistan Football Federation Keramuddin Keram had a secret room at his offices where he was forcing female players to sleep with him at gunpoint - threatening that he would kill them and their families if they told anyone about what had happened.
Khalida was forced to flee Afghanistan, first to India before seeking refuge in Denmark.
Lee also talks to the Afghanistan team coach, former USA player Kelly Lindsey, who along with Popal, worked with Guardian journalist Suzanna Wrack to whistleblow on the affair.
Rebecca Smith, global head of the women's game at COPA90 said: "This particular story is something I wish we never had to cover but simultaneously I hope it's a catalyst for the world to stand up against any form of abuse in football and in the world."