One of the biggest visual effects challenges for Peter Capaldi's debut was realising the 'Half-Face Man' character.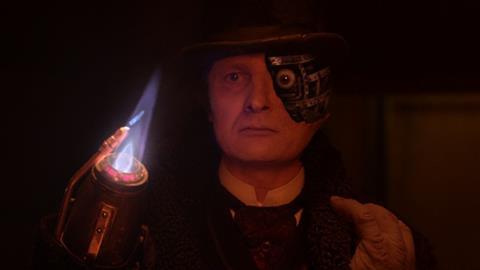 Milk worked on 117 VFX shots for the feature-length series opener and almost three-quarters of them involved replacing one half of actor Peter Ferdinando's head for his role as the mysterious and villainous Half-Face Man.
We created the CG hollow cage-like structure which makes up the missing half of Half-Face Man's head as well as the visible internal workings of his head which resemble the mechanics of a clock, with moving cogs, pistons and rotating mechanical parts.
With the hotly anticipated 80-minute episode simulcast and screened in cinemas globally there was nowhere to hide and the attention to detail needed to be perfect.
As ever we had to make sure we could deliver the ambition and amount of work within a certain time schedule and budget.
Designing the look of the Half-Face Man was a collaborative challenge that involved director Ben Wheatley, the production team, Millennium FX who created both a prosthetic puppet for simple composite shots as well as the head piece worn by the actor, and Milk who created the digital version.
There were several iterations in the early drawings which gave everyone the opportunity to provide feedback around issues such as where the join with his chin should be.
An early prototype of the puppet was shipped to Milk and we had Ben Wheatley and Peter Ferdinando come in to the facility a few weeks prior to shooting in order to test the proof of concept for simple shots where Peter would keep still but also for when he was going to move his head.
Digital face replacement involves pin-sharp accuracy with match-moving and tracking in order for it to be successful. We shot some footage in-house using a Blackmagic Design camera and with tracking markers on Peter's face as well as the puppet in-situ and we composited these together.
However, it soon became clear that this method would be redundant as technical limitations and time restrictions on set led to nearly all the shots becoming CG while the physical puppet was very useful as lighting reference.
The Half-Face Man had to be photo-real so matching it to the on-set and in-camera environment perfectly in its digital form and then compositing this element back in to the shot had to be seamless.
The rotoscope and prep team at Milk were kept very busy removing all the tracking markers and practical make up on Peter's face, hollowing out his head and restoring his collar and the back of his hat ready for the clockwork mechanism to be composited in.
It is always challenging to have CG in close up on the screen in non-action sequences as the work is very exposed.
Looking at the clockwork mechanism and being able to see through to the other side of someone's face is a very satisfying and successful digital effect that we hope supported the chilling narrative effectively.
Will Cohen is chief executive of London VFX house Milk