Golf fans in various territories (excluding the UK and Ireland) will be able to watch live and on-demand content from these major tournaments via Discovery and GOLFTV.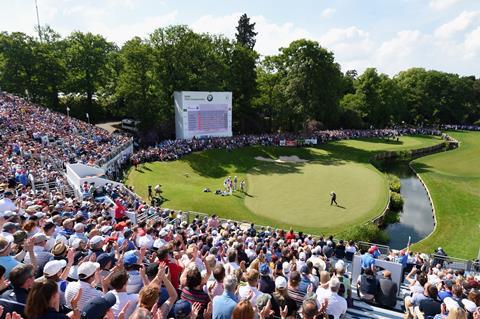 Discovery has agreed a deal with the European Tour for the international multi-platform live rights to all European Tour events in certain territories (not including the UK and Ireland, the US and a number of other major territories) and the next two Ryder Cups (to European markets only but, again, excluding the UK and Ireland and a number of other countries).
Discovery's soon-to-launch 'digital home of golf', GOLFTV will host both live and on-demand video streaming of the European Tour and Ryder Cup games in the territories it covers.
GOLFTV will launch in January 2019 and carry 40+ European Tour events a year, including every Race to Dubai event; all Rolex Series events; all world golf championships (the Wentworth BMW Championships are pictured above); Gold Sixes and the hero challenge; the European Challenge Tour and Staysure Tour.
GOLFTV will also show live coverage of the next two Ryder Cups from Whistling Straits, Wisconsin in 2020 and Marco Simone Golf & Country Club, Italy in 2022.
Additionally, GOLFTV's portfolio includes the PGA TOUR, and it has also agreed an exclusive global content partnership with Tiger Woods. It is intending to create content such as "deep-dive instruction to help players improve their game, and exclusive access into Woods' tournament preparation."
Discovery Golf president and general manager Alex Kaplan said: "Welcoming the European Tour and The Ryder Cup into the GOLFTV world is a significant step in our journey to becoming a premier global destination for golf entertainment. To offer fans the chance to watch some of the biggest tournaments of the year week in and week out, featuring the world's greatest players and their national heroes, is the perfect foundation of must-have content that fans can't live without."
Keith Pelley, Chief Executive, European Tour, said: "Discovery has a very strong vision for GOLFTV as a multi-platform destination for golf and we are delighted to be combining our global reach in 2019.